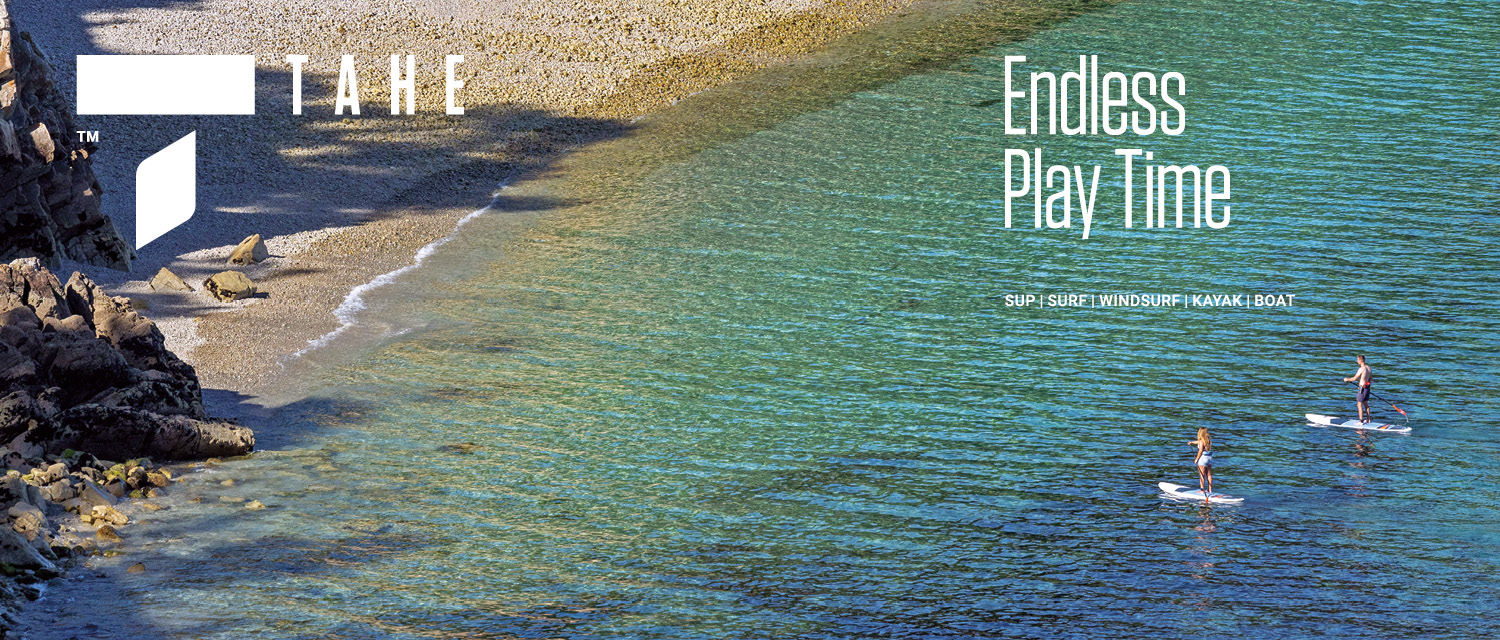 For more than 40 years, Tahe Outdoors/BIC Sport has manufactured the vast majority of its SUP, surf and windsurf boards, its boats and kayaks in France. Our manufacturing unit, based in Vannes (Brittany) is the only board/water sports mass production facility to have stayed in Europe. The new (ad)venture, with TAHE, will not change our determination to continue manufacturing our products in France. Home manufacture is very much part of the new brand's DNA.
Retaining our manufacturing in France is not simply a gimmick or a question of pride, it's also the best means of ensuring quality control and offering something different from other manufacturers' products that are almost all made in Asia.
Our industrial site, where all TAHE rigid products are made, features a manufacturing process that is unique in the world. It enables us to exploit three different types of thermoformed technology in one location : hollow-body thermoforming, polystyrene core thermoforming, and blown extrusion, options that are not available to any other manufacturer on the planet.
These three production options mean we can consistently manufacture tough, light-weight, quality products that are excellent value for money, essential elements for delivering maximum fun whatever your skill level. It's our continuous investment in high performance machines that enables us to compete with other products almost exclusively "made in Asia".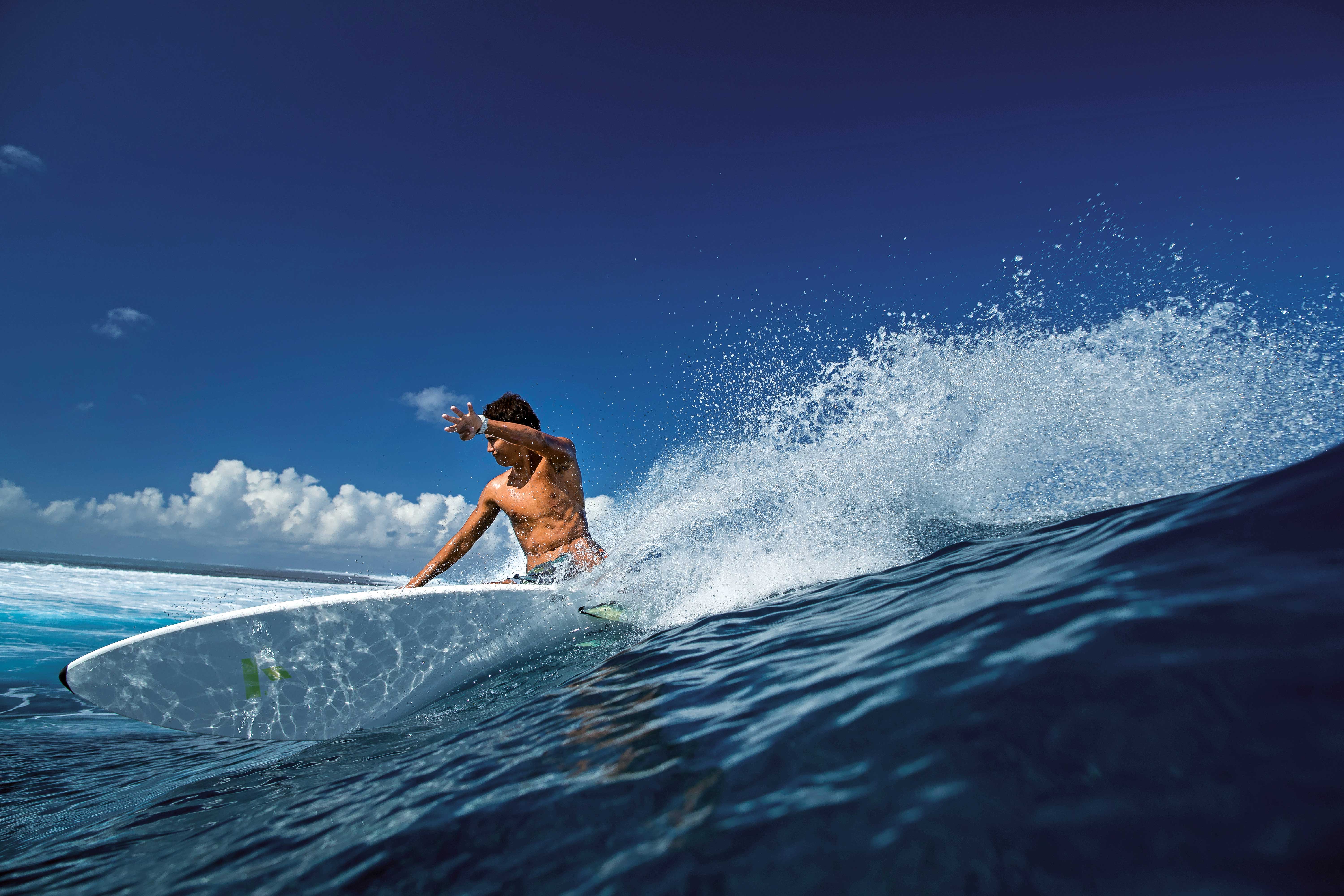 ---
A unique industrial manufacturing facility
Tahe Outdoors has the only production facility in the world to offer these three different construction techniques at one single site. This allows us to produce six different product categories exploiting the different techniques : SUP, Surf and Windsurf boards, Kayaks, O'pen Skiff dinghies and other small boats/Tenders. Tahe Outdoors also makes its own polystyrene and polyethylene slabs at the same site. And the TAHE thermoforming workforce operates in the secure knowledge of 100% respect for European employment legislation.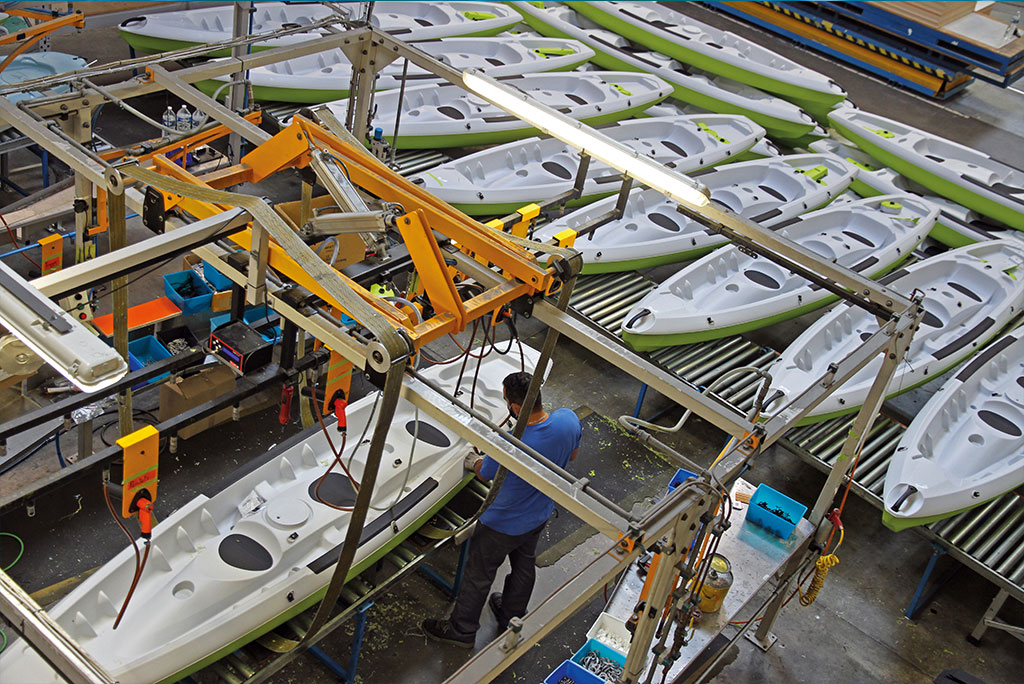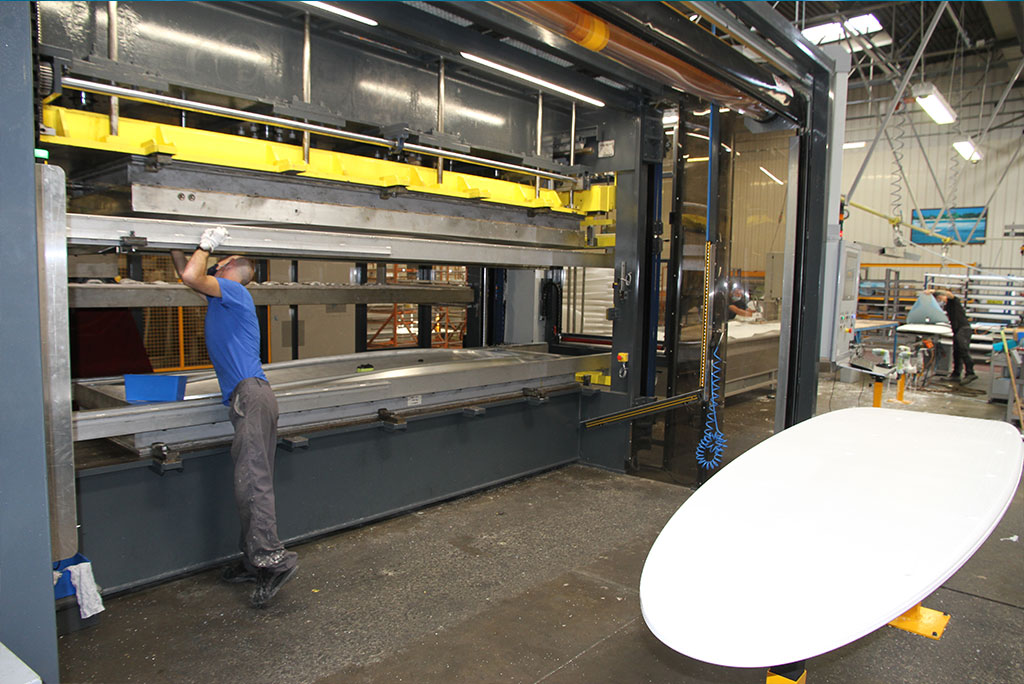 Locally-based supply chain
The majority of our suppliers (moulds, fins, paints, accessories…) are located in western France/Europe, and are less than 1000km from our factory. It's always been part of our mission to select quality components from locally-based supply partners. This helps create confidence and opportunity and allows us to play a meaningful role in the local economy, creating employment, giving us the possibility to develop and innovate with our product range, and minimising our carbon footprint.
Polystyrene blanks: Zero waste internal production

Polymer/ASA slabs: Zero waste internal production

Aluminium Molds: 30 km

Injection Molded Fins: 25 km

Accessories, Parts, etc.: 80 km

Glass & Carbon Molded Fins: 100 km

Stickers: 100 km & 700km

Plastics: Eastern Europe - 1000 km

EVA Foam Pads: Eastern Europe - 1000 km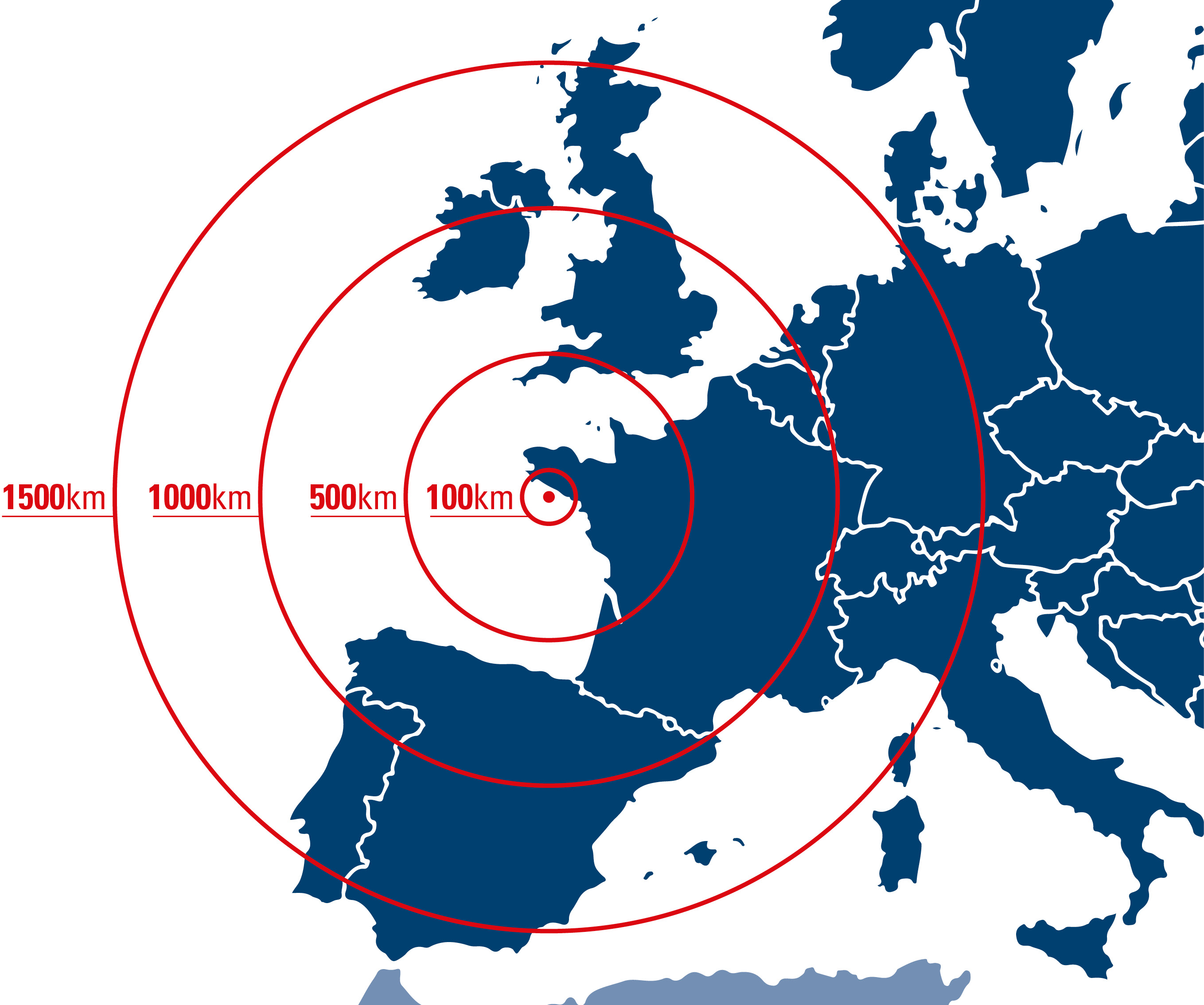 A 100% French manufacturing team
80 people, men and women, work at our site in Vannes on the conception and manufacture off all the products that ensure you will enjoy the TAHE experience.
From creation to distribution, the whole TAHE process of rigid manufacture is 100% French. Our designers and shapers create the hand-made or machine-shaped prototypes. Our riders and company ambassadors then test them thoroughly on the nearby Atlantic coast. After which our engineers adapt and optimise them for mass production, and we then export 80% of those products to countries all round the world. Our marketing, sales and distribution functions are likewise based at our site in Vannes, the final players in our 100% made in France team.