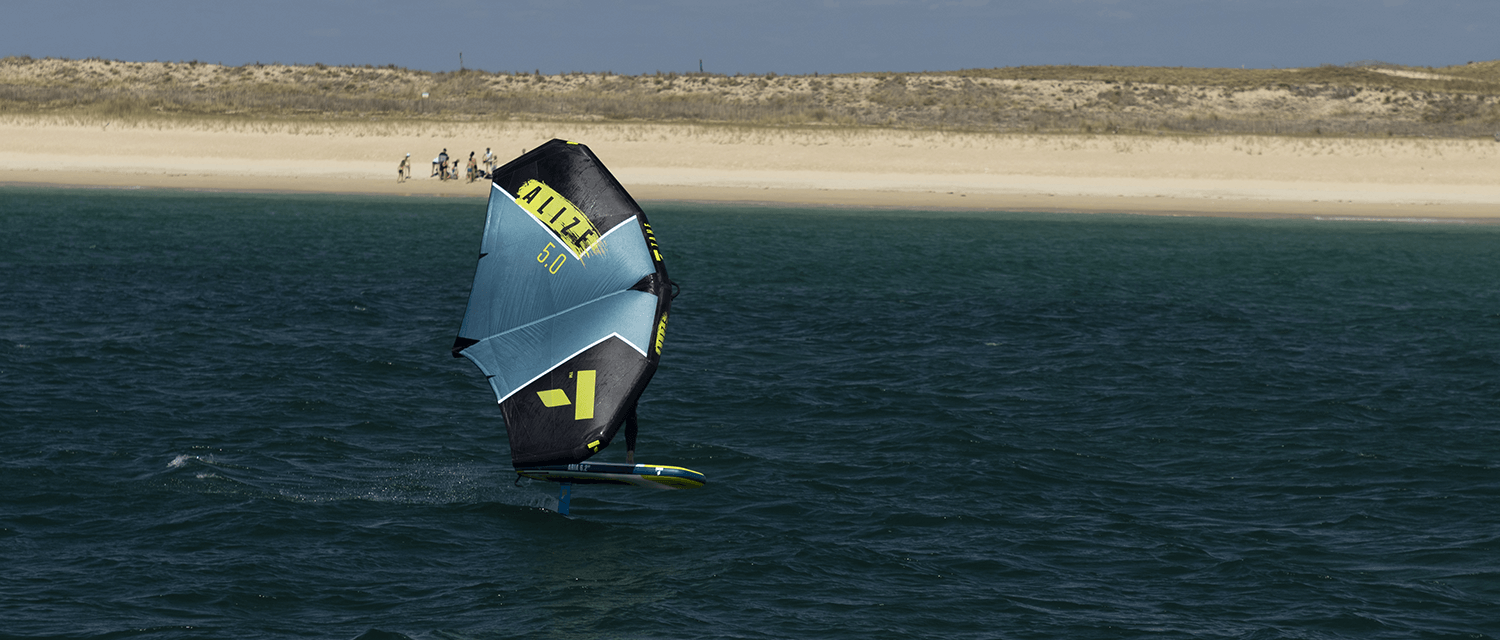 In this latest episode of the adventures of the yacht ZaïZaï and its crew, Anne-Laure tells us how she made her first steps in wingfoiling. Previously a confirmed kitesurf addict, she's now been seriously bitten by the wingfoil bug!
It's an activity that has plenty of advantages, especially if you happen to be on a boat sailing round the world. First impressions, progression, doubts and discovery, read all about her personal recipe for success!
---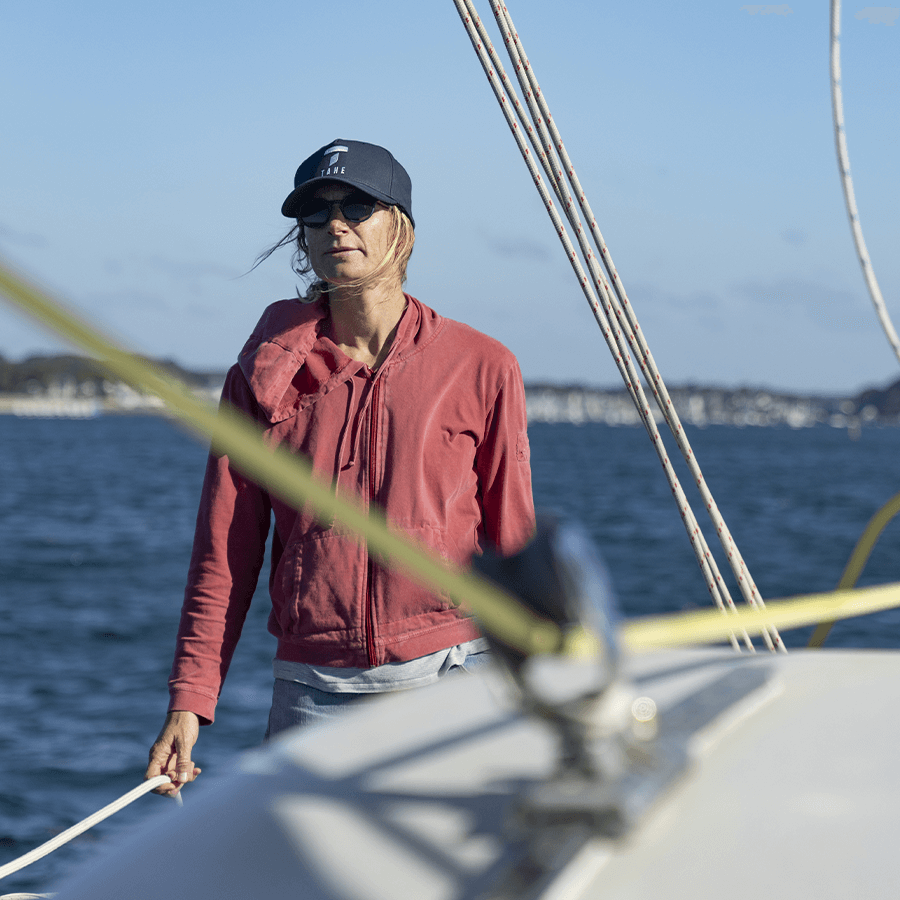 Brittany - France
2013, the year of change: leaving Paris to go and live in Brittany, in Lorient. To celebrate this new direction, I decided to learn to kitesurf. After three super-fast courses of classes, I spent out on my equipment and quickly learned all the thrills, spills and risks that go with the sport, especially for a hot-head like myself.
Four more years of often hazardous fun followed. I did the lot, full house: kite down on the rocks, double-bounce landing of a jump that I was never in control of, kite broken loose and corkscrewing down the beach, kite twisted round itself in the waves – many times -, scraping the kite over the beach, broken line resulting in uncontrollable kite, kite disappeared into the distance in a big off-shore wind.
Basically, I spent four years "that" far from a serious accident! All the same, most of my sessions were brilliant, there are plenty that I will always remember, but I'm happy now there's no more having to shout "get out of the way"!
I say four years, but bear in mind that I was pregnant twice and gave birth twice at the same time, so I had to calm down on the rodeo stuff. I morphed into a kind of kitesurf Granny, mostly chill-out style, whatever you do don't stress me out! My jumps became less risky, and I only went out if the conditions looked good. Smooth wind side shore, smooth water or perfect waves, good water temperature.
---
The Wingfoil pandemic reaches ZaïZaï
Actually, it was Gweno who first started checking out these kind of batman people, on their foils with their wings behind their backs riding upwind. We weren't – and I really believed this at the time - in the slightest bit interested. In my head – and that of most of our friends - WINGFOIL was just a flash in the pan !
But Gweno was up for it and really wanted to see what all the fuss was about, especially as he had friends who were already on it and had the gear. Just before we set off for our first big Zaï Zaï trip he went for it and bought a beginner rig.
Rigid 120 litre board, a 1500 foil and a 5m2 wing. A good starting point – in any case, that's what we had to learn on and it all went really well.
Gwéno learned fast and easily. Whereas I still had the kitesurf bug and wasn't ready to start learning something completely new. All the same, out of curiosity if nothing else, I decided it was time to get on that board.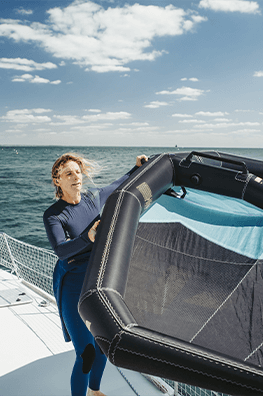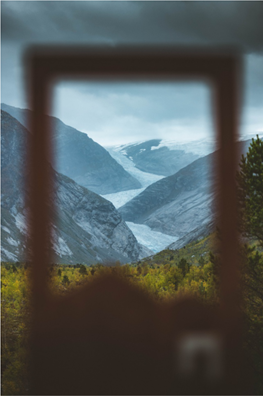 Le virus du wingfoil chez Zaïzaï
Puis, il a fallu que Gweno se mette à observer au loin ces types Batman sur leur foil et leur aile dans le dos. Ça n'avait – et je le pensais sincèrement à l'époque – aucune allure ! J'ai nommé, le WINGFOIL, qui a connu - dans nos contrées - un essor fulgurant !
Gweno s'est penché sérieusement sur la question et a bien sûr voulu tester l'engin, à l'aide de copains déjà équipés. Avant notre grand départ en transat sur Zaï Zaï, il se décide et investit dans un premier jeu de matériel.
Une planche rigide de 120 litres, un foil 1500, aile 5 m. Une bonne base pour commencer – disons plutôt que c'est avec ça que l'on a débuté et cela s'est très bien passé.
Gwéno a progressé tout de suite, assez vite. En ce qui me concerne, j'avais toujours le kitesurf en fond de toile et n'étais pas tout à fait prête à découvrir une nouvelle pratique. Pourtant, dans un élan de curiosité, je me décidais à monter sur la planche.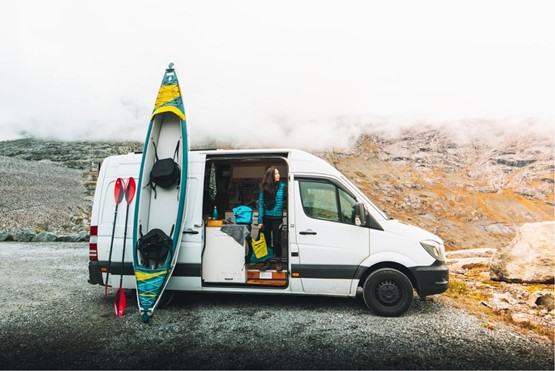 Welcome to the unbelievably impressive Lake Styggevatnet!
---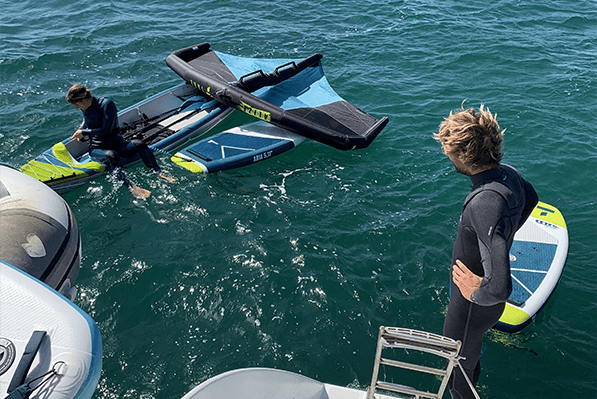 My learning to wingfoil experience
The 120 litre rigid board meant that I could get upright easily, moving quickly through the "kneeling" phase. It took me about half an hour to work out how to hold the wing correctly – I'd already decided that it was probably better learning in a steady 15 knot wind – and I was able to make my first runs in the hour that followed, though not yet actually "in flight".
It was just moving left and right, backwards and forwards, actually getting off the board to turn it round for my changes of direction. Bravo Anne-laure!
---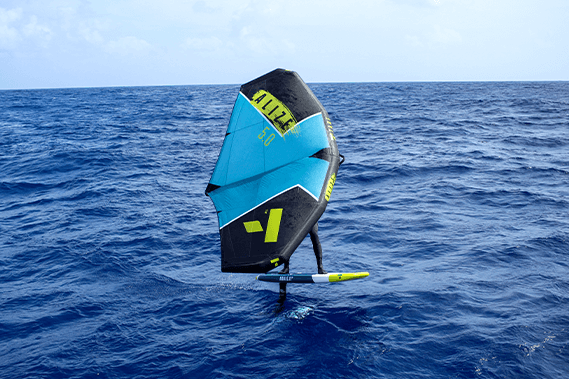 The real thing!
I was ready to fly with my wing as soon as there was a perfect wind. Which we found once we'd arrived in Guadeloupe. In the end, my first « real » wingfoil session was in the small bay at St Francois, slaloming in an out between the boats at mooring. I was still a long way from knowing how to gybe/jibe or do upwind turns, I was just enjoying playing in the space. That's why I very quickly invested in a helmet and protection vest. But the basic principles were in place, it was all very promising.
I didn't manage to get back on that horse for a few months. In the Grenadine islands conditions are perfect for kitesurfing, so that's what I did. But it was a bit of a reality check, and something that was painful to admit: kitesurf can be dangerous, and a bit of a headache with the flying lines etc. With wingfoil is was all so much more simple. Preparing your equipment, getting on the water, all the basics made simple. If there's a problem, just lie down on your wing on your board and paddle back in.
Starting with a big board helped me build my confidence, to get accustomed to the feeling and sensations coming through my feet and legs, which helped me learn how and where to position myself and understand the moment when the board would end up lifting itself into the air. Actually, the 5m2 wing was a little bit too big for me, I preferred the 4m2, which was easier to manoeuvre for someone my size (1.65m / 58 kilos).
When we got to the Canaries, and taking into account my apprehension about getting airborn, Gweno suggested we try towing me behind the zodiac with the foil. Not very ecological to be fair, but later we found a way of towing me behind the yacht, which was a great way of understanding the sensations of the board and foil ! It was relatively easy learning the best foot positions on the board : slightly towards the rear to help with the lift-off phase, then moving my weight to the centre and even slightly forwards on the board, depending on how the foil was reacting, and how it had been set up on its mast.
In the end I gave up my dreams of being a superstar kitesurfer and threw myself 100% at wingfoiling ! When we got back to Brittany, we sold all the kitesurf gear so we could concentrate on wingfoil. Apart from anything else, having loads of different equipment on the yacht made me a bit uneasy.
I just wanted to concentrate one thing that I could do regularly, rather than have loads of equipment for different sports, that we might use occasionally at best, and which other people could make good use of. Hey! We all find our own way of doing things.
And then we set off from Brittany in September 2023 for our third Trans-Atlantic: Gweno took the opportunity to upgrade his rig, mostly to get a smaller board. I was still happy with the ARIA 5'11 rigid 120 litre board, with an AQUILON 1500 foil, and I got myself the ALIZÉ 4m2 wing which was better adapted to my size/strength.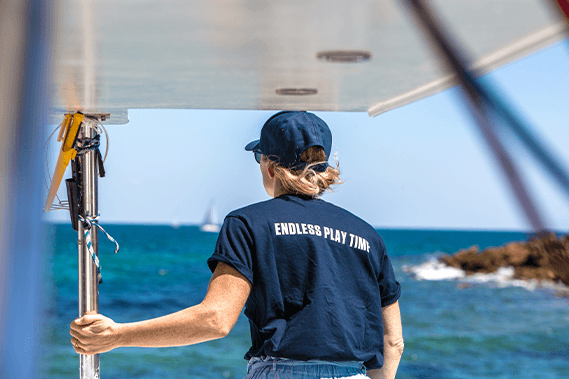 ---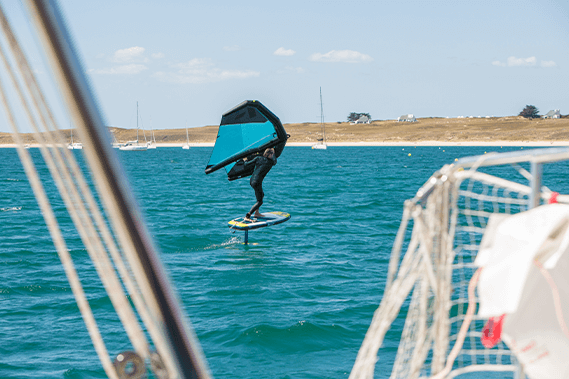 Des sessions de rêve dans des endroits paradisiaques
Since then, endless dream sessions in stunning locations. And after some of those sessions in Belize, Honduras and San Blas above all, I've made serious progress! I can do those jibes/gybes – nearly – and I'm working on my upwind turns. I can't stay up on the foil all through the upwind turn, but I can tell it's on its way.
I can sail upwind, and I don't have to check where my feet are on the board, or the wing in my hands. I can spend time appreciating the scenery, which seems to me fairly important in this bonkers world where whatever can go wrong will go wrong!
Above all, I've understood how to achieve lift-off without ending up in physical red zone in minutes, and I'm passed the stage of "I don't understand, and I'm completely exhausted after 5 minutes pumping like a mad woman to try and get airborn".
I'm enjoying my in-flight sessions in my own sweet way, although I'm not yet ready or able to start throwing any backflips. But I've already been able to take our 4 year old daughter Cleo out on the board for a couple of runs with me, both of us overjoyed, it's totally made our day!
For me, wingfoil has quickly become something much more than just a bit of sporty fun: exploring the whole mooring zone, checking out the nearest coral reefs for exploring later with our scuba gear, going for a coffee on our friends' boat moored on the nearest island just downwind!
My negative preconceptions have totally disappeared, my curiosity has been more than tickled, I've learned the basics and I'm loving doing something completely new. And now I really can't wait to make my first runs on our next stop, over in Polynesia!