TAHE is a brand born from the union of BIC Sport and Tahe Outdoors, two legendary companies famous for decades of commitment to water sports. BIC Sport's board sport culture, manufacturing expertise and focus on family fun is now combined with Tahe Outdoors dedication to exploration and craftsmanship. The result is a brand dedicated to Endless Play Time on the water with family and friends of every skill level. It's with this spirit that TAHE begins, building on a legendary foundation of European manufacturing and exploration, environmentally friendly production processes, quality products at an affordable price and investment in innovation and development with an eye to the next generation of water sports lovers.
"TAHE embraces the core values of BIC Sport and Tahe Outdoors while building a new legacy around the idea of Endless Play Time. We all dream of the endless summer, of fun and adventure with family and friends that is timeless and makes us truly feel alive. This is what we search for, and hope to find, each time we venture out on the water."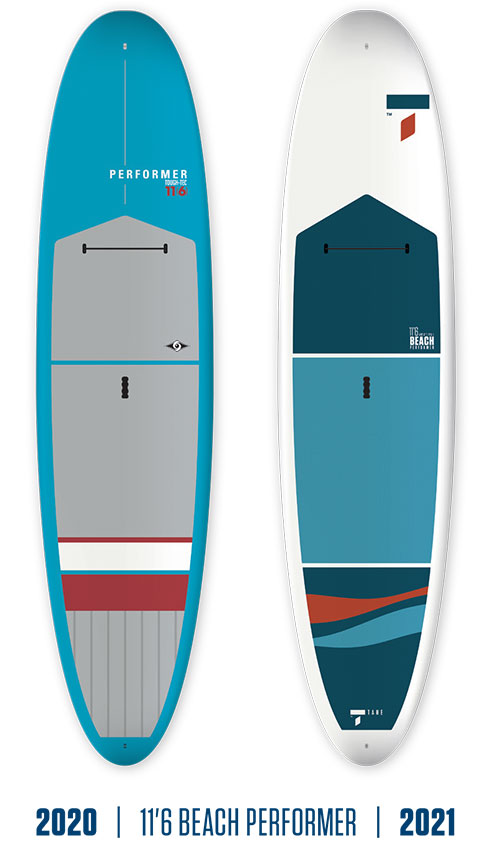 ---
BIC Sport
BIC Sport built its image on the pursuit of fun, living the Hawaiian dream and searching for the perfect wave. This passion inspired development of the best-selling windsurf boards on the planet. After numerous windsurf world championships BIC Sport expanded into other water sports; surfing, kayaking, junior sailing and most recently stand up paddle boarding. Countless successes in each of these sports made BIC Sport THE benchmark water sports brand for beginners and enthusiasts alike. This "open-to-everyone" strategy also drove the
approach to sports development with the launch of two inclusive 'one class' racing divisions for young sailors. Fleets of Techno 293 windsurf boards and O'pen Skiff dinghies are now found in over 60 countries worldwide. These innovative concepts have shaken up the sailing world with fun new competitive classes that are both dynamic and open to all.
Tahe Outdoors
In the late 1980s, far from the coconut palm beaches of Hawaii, Tahe Outdoors built its own legend conquering the cold, inhospitable seas of northern Europe. A group of hard-core sportsmen created a range of high-performance, super-tough kayaks so they could attempt extreme expeditions into the harsh, frozen landscapes of the great white north. "TAHE" means "the will to succeed" in Estonian. An appropriate core value for the creators of this Estonian company, supported in its early days by the Finnish Kayak Federation. Two brands were created from this business (ad)venture : Zegul and Tahe Marine. Their products have been the platform for legendary expeditions to some of the most remote locations on the planet.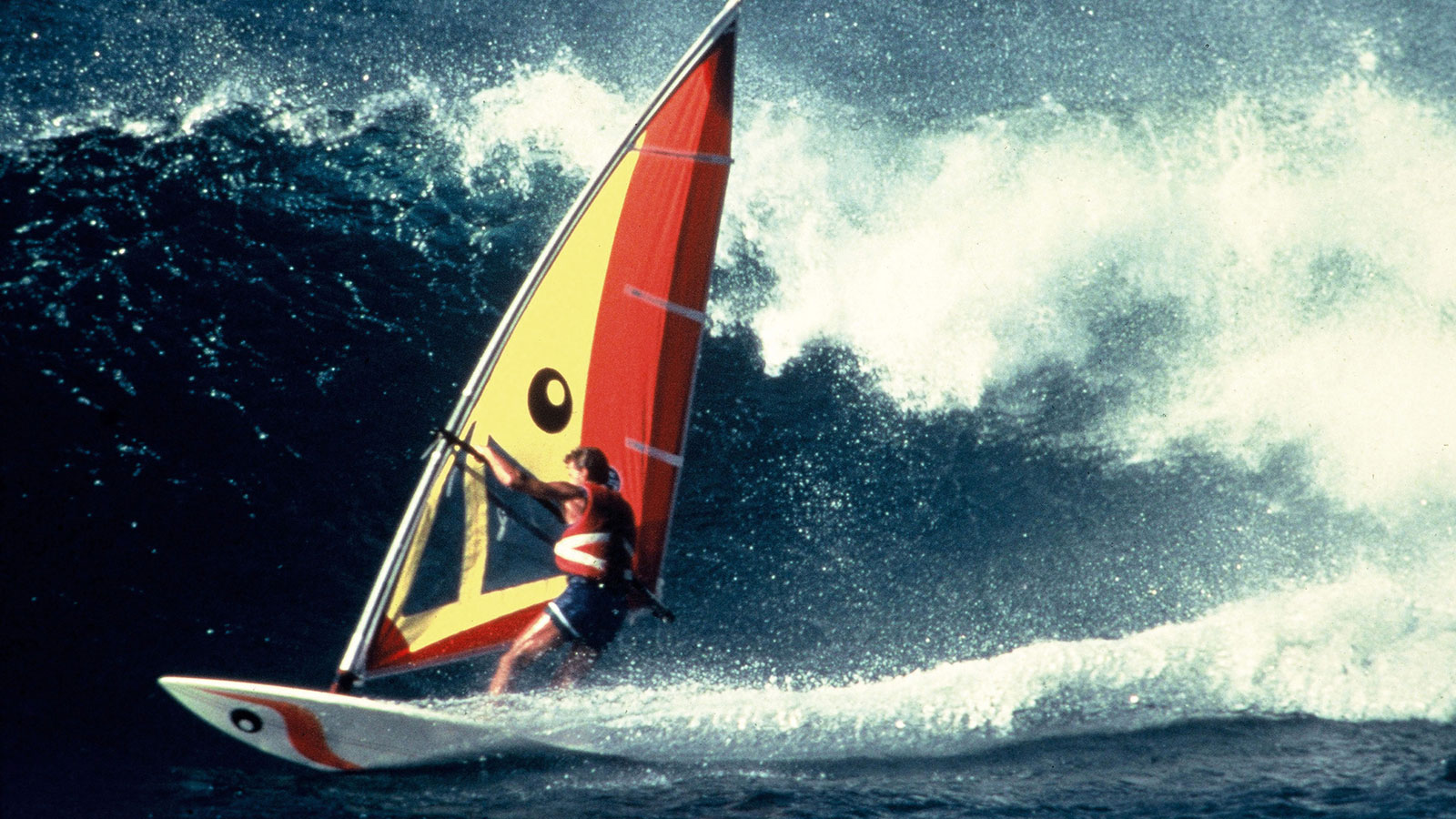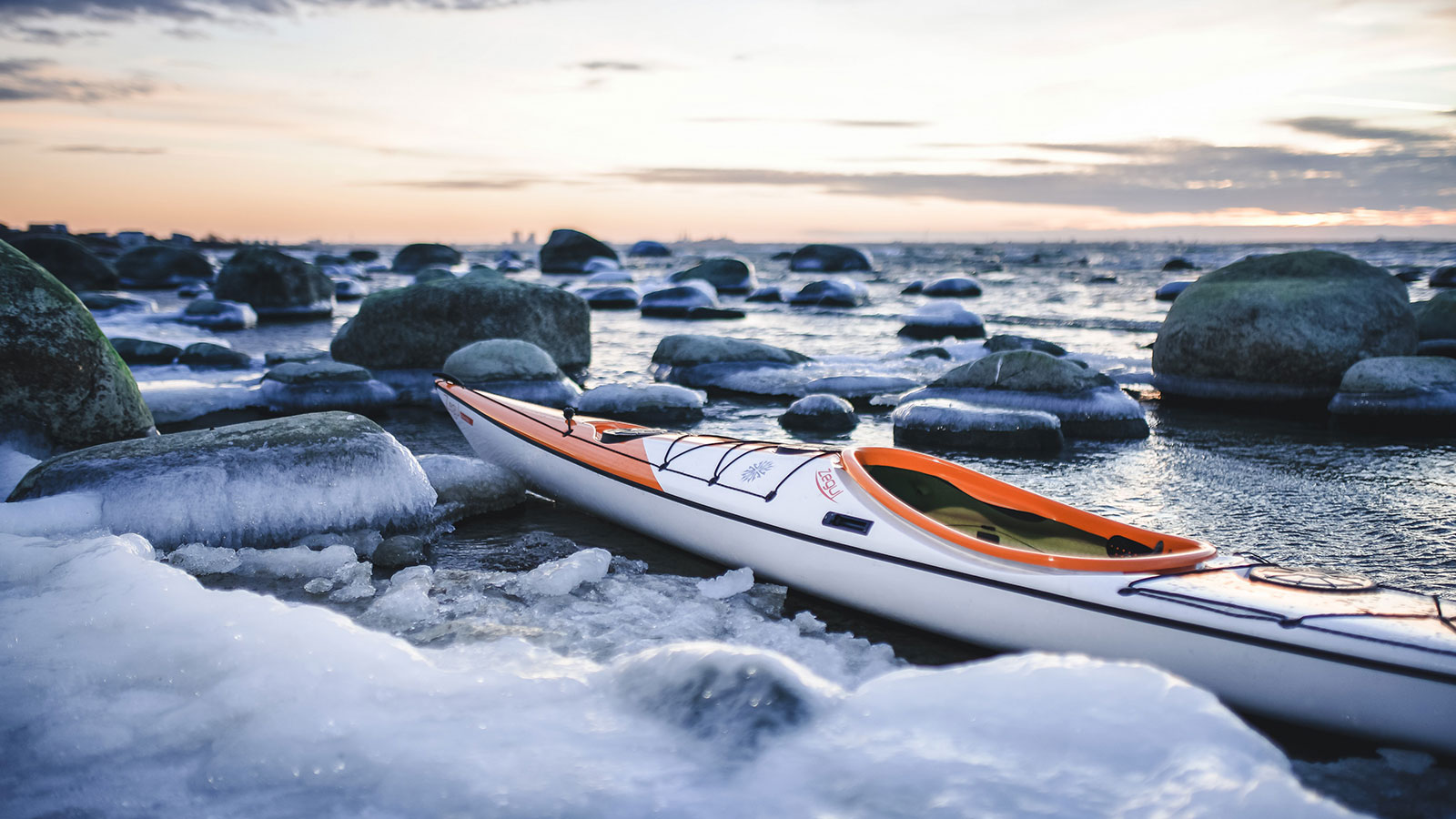 Same roots, new dynamics! 40 years of heritage condensed to 2 minutes. Discover the full story, any time you like!
---
TAHE Eco-Minded Manufacturing, Made in France
For more than 40 years, Tahe Outdoors/BIC Sport has manufactured the vast majority of its SUP, surf and windsurf boards, its boats and kayaks in France. Our manufacturing unit, based in Vannes (Brittany) is the only board/water sports mass production facility to have stayed in Europe. The new (ad)venture, with TAHE, will not change our determination to continue manufacturing our products in France. Home manufacture is very much part of the new brand's DNA.
Retaining our manufacturing in France is not simply a gimmick or a question of pride, it's also the best means of ensuring quality control and offering something different from other manufacturers' products that are almost all made in Asia.
Our industrial site, where all TAHE rigid products are made, features a manufacturing process that is unique in the world. It enables us to exploit three different types of thermoformed technology in one location : hollow-body thermoforming, polystyrene core thermoforming, and blown extrusion, options that are not available to any other manufacturer on the planet.
These three production options mean we can consistently manufacture tough, light-weight, quality products that are excellent value for money, essential elements for delivering maximum fun whatever your skill level. It's our continuous investment in high performance machines that enables us to compete with other products almost exclusively "made in Asia".
"Respect for the environment is one of TAHE's guiding principles, building on a 40-year commitment to sustainable manufacturing at our factory in Vannes, France. And that commitment extends beyond the factory with an environmental policy that applies at every level: social, employment, supply chain, manufacturing,
recycling and energy efficiency."
A unique industrial manufacturing facility
Tahe Outdoors has the only production facility in the world to offer these three different construction techniques at one single site. This allows us to produce six different product categories exploiting the different techniques : SUP, Surf and Windsurf boards, Kayaks, O'pen Skiff dinghies and other small boats/Tenders. Tahe Outdoors also makes its own polystyrene and polyethylene slabs at the same site. And the TAHE thermoforming workforce operates in the secure knowledge of 100% respect for European employment legislation.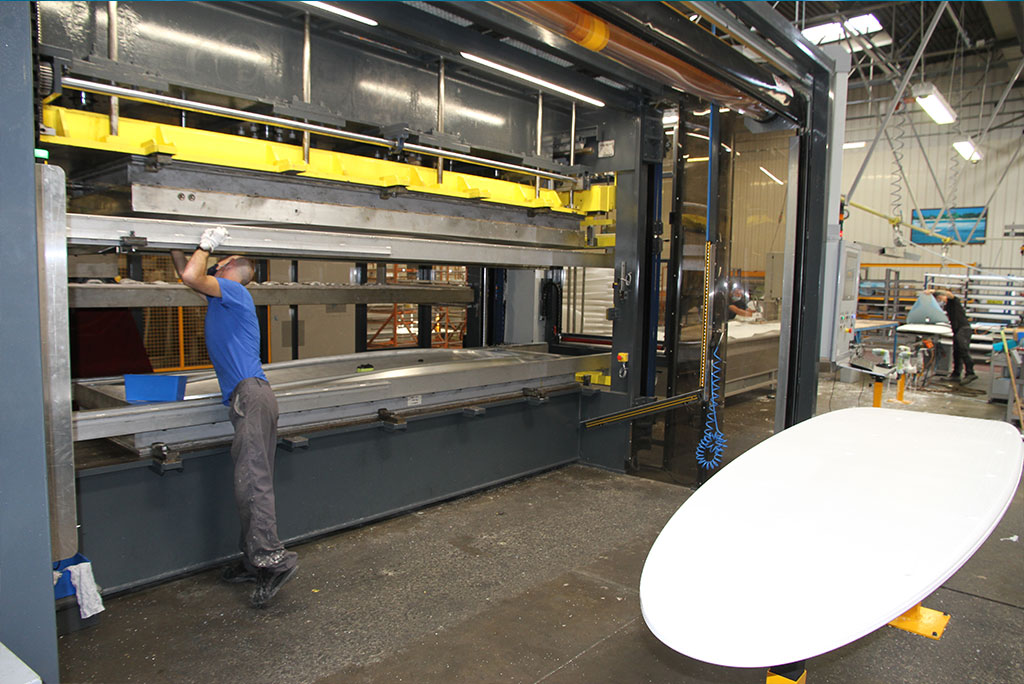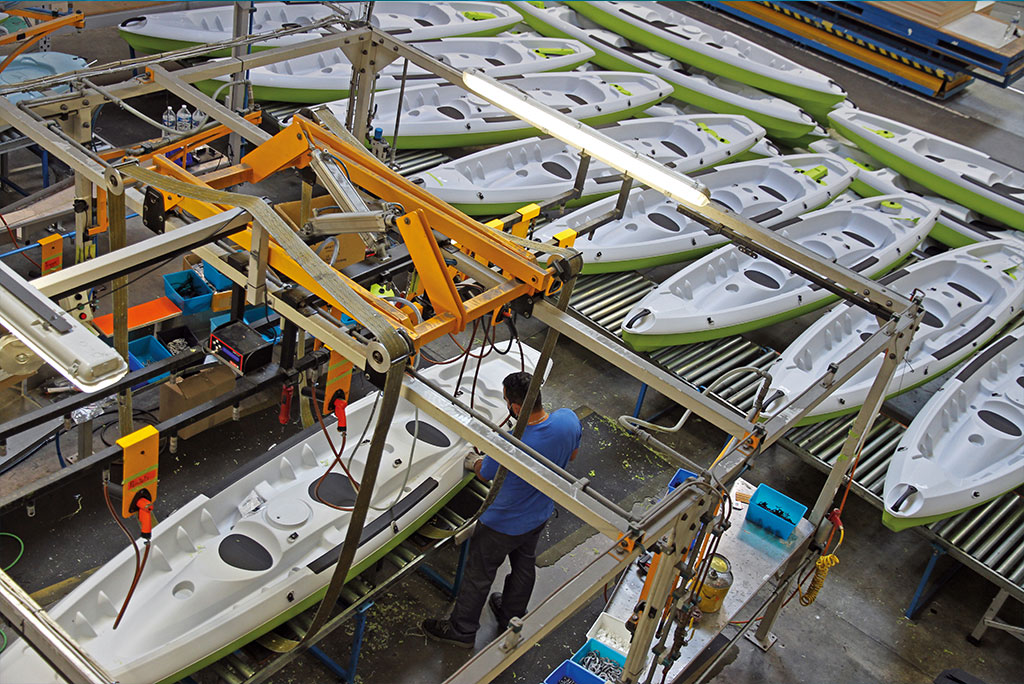 Locally-based supply chain
The majority of our suppliers (moulds, fins, paints, accessories…) are located in western France/Europe, and are less than 1000km from our factory. It's always been part of our mission to select quality components from locally-based supply partners. This helps create confidence and opportunity and allows us to play a meaningful role in the local economy, creating employment, giving us the possibility to develop and innovate with our product range, and minimising our carbon footprint.
Polystyrene blanks: Zero waste internal production

Polymer/ASA slabs: Zero waste internal production

Aluminium Molds: 30 km

Injection Molded Fins: 25 km

Accessories, Parts, etc.: 80 km

Glass & Carbon Molded Fins: 100 km

Stickers: 100 km & 700km

Plastics: Eastern Europe - 1000 km

EVA Foam Pads: Eastern Europe - 1000 km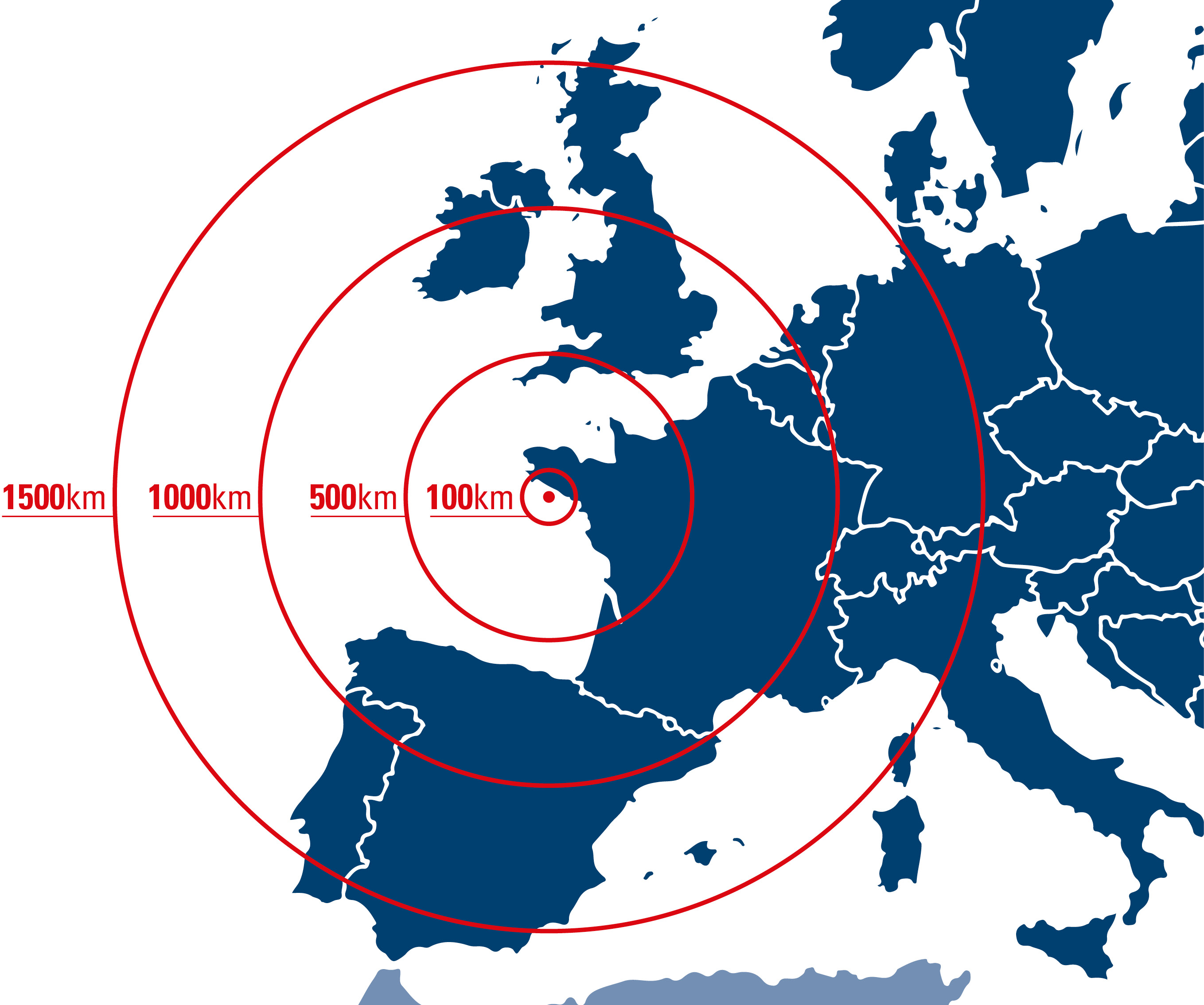 A 100% French manufacturing team
80 people, men and women, work at our site in Vannes on the conception and manufacture off all the products that ensure you will enjoy the TAHE experience.
From creation to distribution, the whole TAHE process of rigid manufacture is 100% French. Our designers and shapers create the hand-made or machine-shaped prototypes. Our riders and company ambassadors then test them thoroughly on the nearby Atlantic coast. After which our engineers adapt and optimise them for mass production, and we then export 80% of those products to countries all round the world. Our marketing, sales and distribution functions are likewise based at our site in Vannes, the final players in our 100% made in France team.
---
40 Years of Molding Expertise
Tahe Outdoors France is the proud owner of an industrial tool that is unique in the world, capable of three different manufacturing techniques: thermoforming, thermoforming around a polystyrene core, and blow moulding/blown extrusion.
Tahe Outdoors France is the only manufacturer in the world to have these three manufacturing techniques available on one production site. This enables us to produce six different product types with consistency, quality and faithfulness to the original design, every time.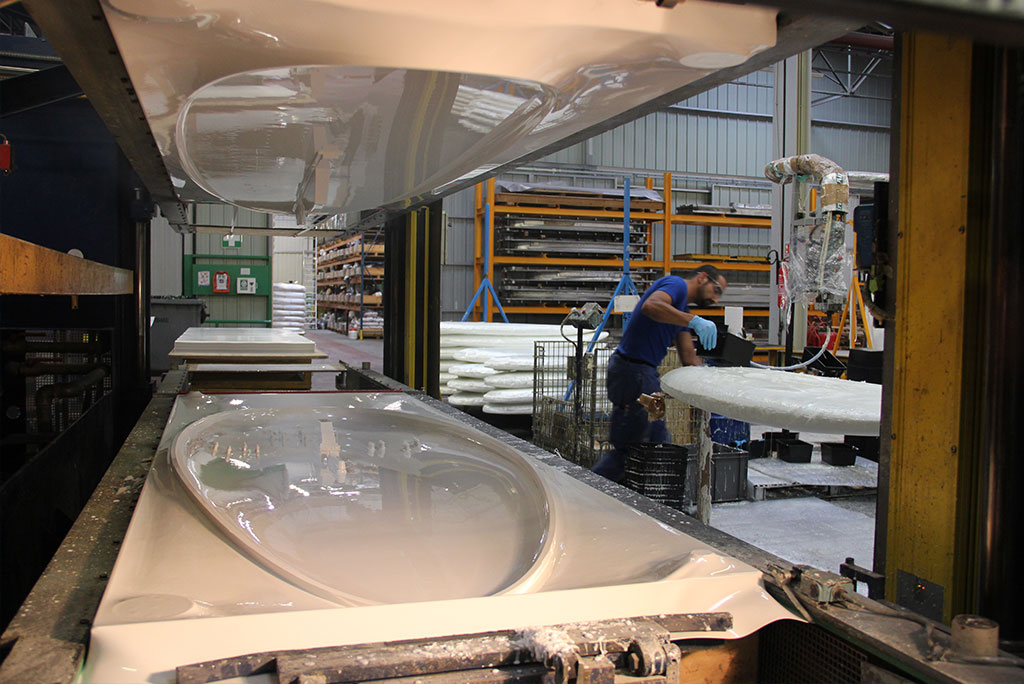 Thermoformed Technologies
With close to 40 years' experience in windsurf, surfboard and SUP manufacturing TAHE is a pioneer and expert in the field of thermoformed composite construction technologies. In short - we know molding. The distinguishing feature of TAHE's molded technologies can be summed up in two words - PRESSURE and PRECISION
This combination of PRESSURE with PRECISION is unique in the world of SUP, Surf and Windsurf board manufacturing, resulting in industry leading consistency and quality.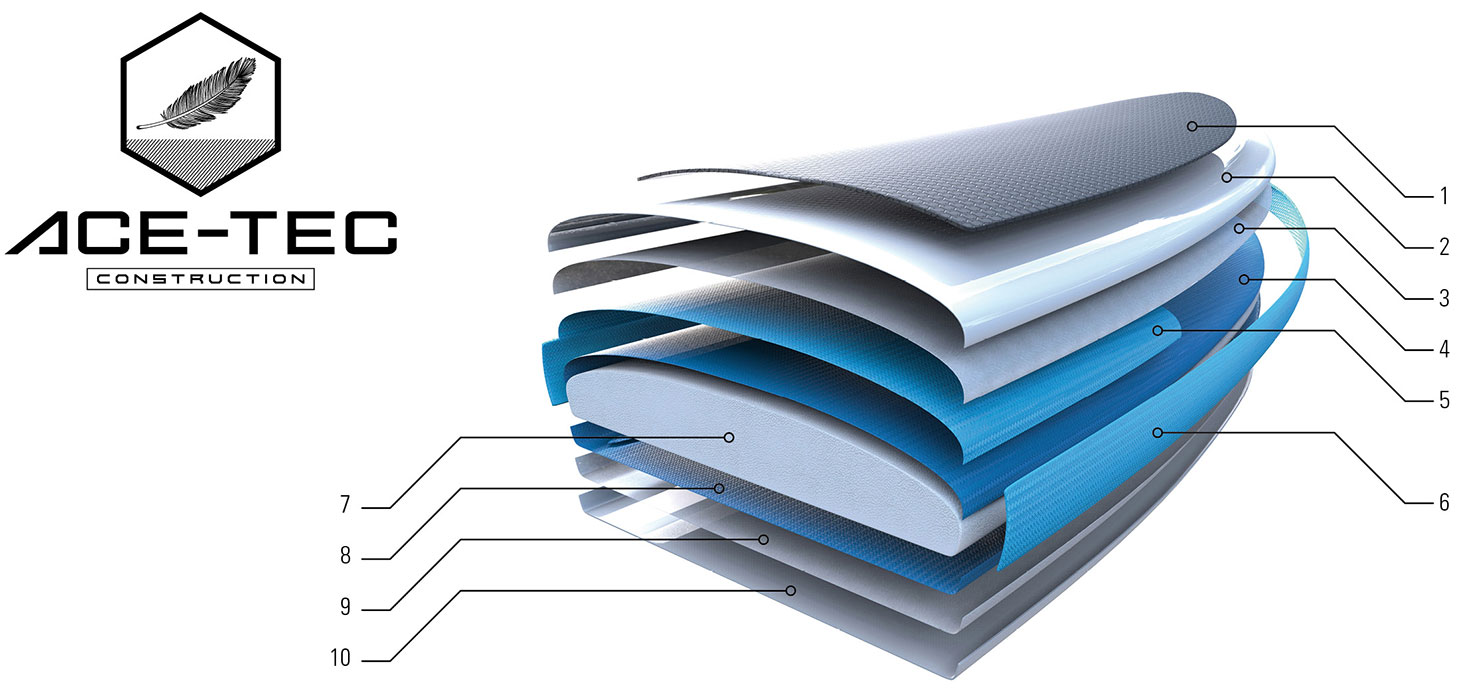 2&10- Thermoformed plastic skin (ASA). / 3 - 50g/m2 Fiberglass wrap. / 4&8 - 200g/m2 Woven Fiberglass. / 5 - 200g/m2 Woven Fiberglass Reinforcement Patch in standing area. / 6 - 200g/m2 Woven Fiberglass Rail Reinforcement. / 7 - Molded, Watertight EPS Foam Core. / 9 - 50g/m2 Fiberglass wrap.
Thermoforming around a Polystyrene Core
• Molded, light weight and watertight 15 kg/m3 EPS Foam Core.
• Fiberglass reinforcement for improved stiffness and
performance.
• ASA Polymer outer skin for unmatched durability and impact
resistance.
• Embossed EVA foam pad for maximum comfort.
• Molded external inserts – no penetrations through outer shell
and maximum strength.

Products using this technique:
Designated Windsurf and SUP boards
---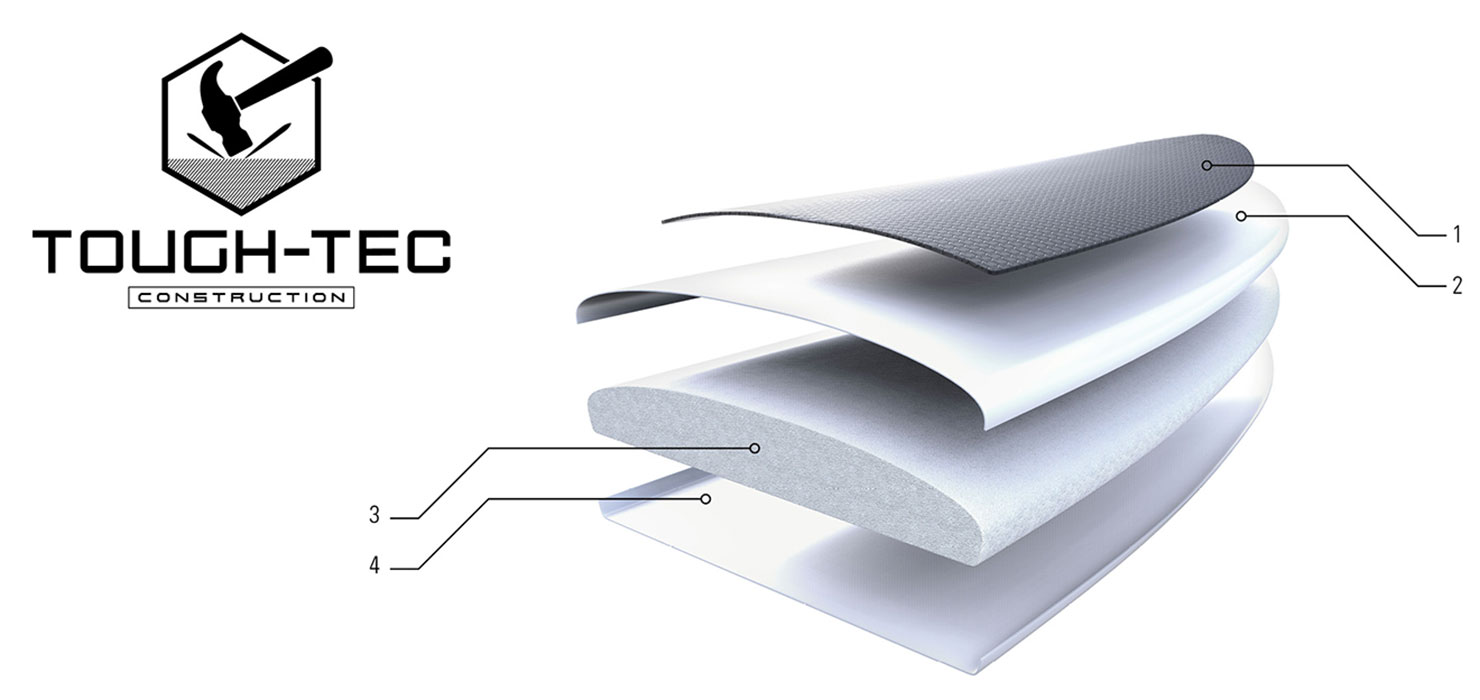 1- Deck pad.
2- Rugged Polyethylene Outer Shell.
3- Molded, Watertight EPS Foam Core.
4- Polyethylene outer shell.
Thermoforming around a Polystyrene Core
• Molded, Watertight EPS Foam Core for structural integrity
and stiffness.
• Extremely tough outer polyethylene skin for extreme
impact resistance.
• Embossed EVA foam pad for maximum comfort.
• Molded external inserts – no penetrations through outer
shell and maximum strength.

Products using this technique:
Designated Windsurf and SUP boards
---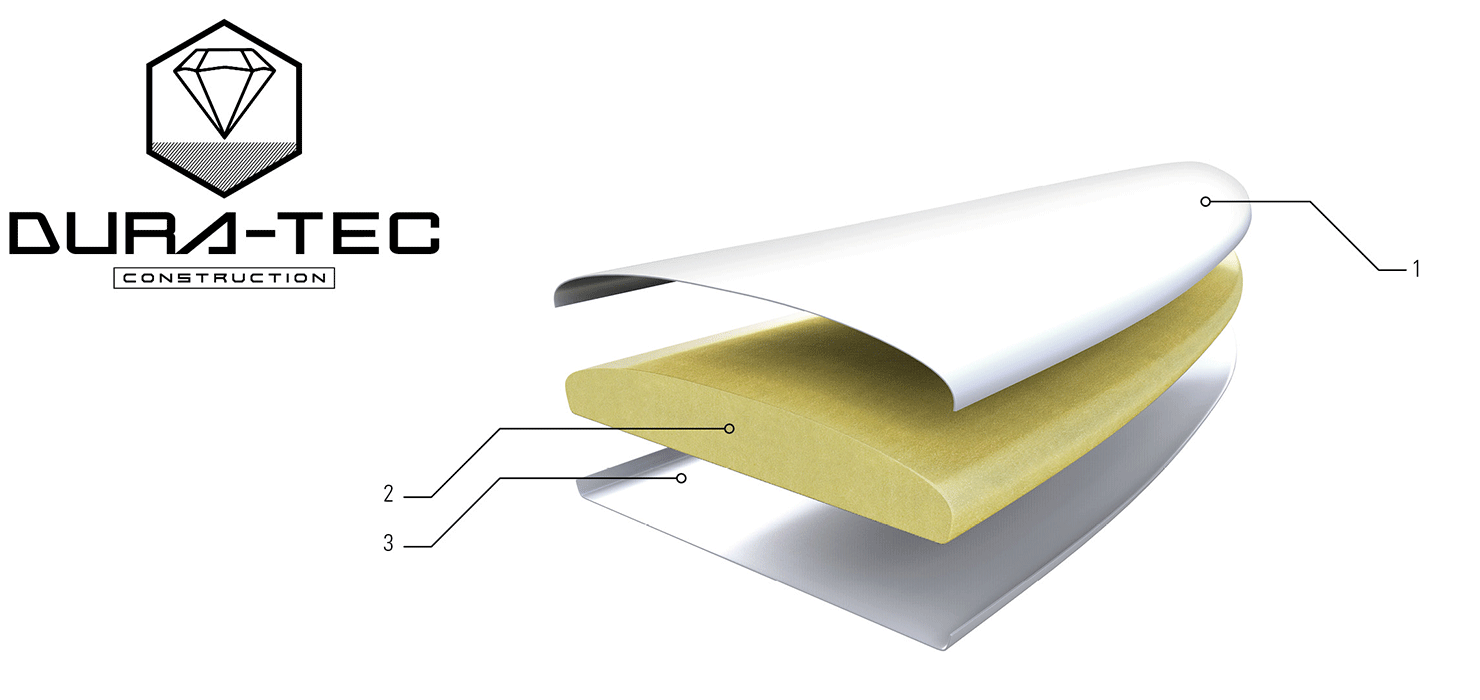 1- Polyethylene Outer Shell.
2- Polyurethane Foam Inner Core.
3- Polyethylene Outer Shell.
Blow Molding / Blown Extrusion
• Used exclusively for surfboards that are built to last.
• Closed cell PU inner core for structural integrity and
board stiffness.
• Strong blow-moulded outer PE skin for ding resistance,
long-term durability.
• Molded external fin inserts - no penetrations through outer
shell and maximum strength.

Products using this technique:
DURA-TEC Surfboards
---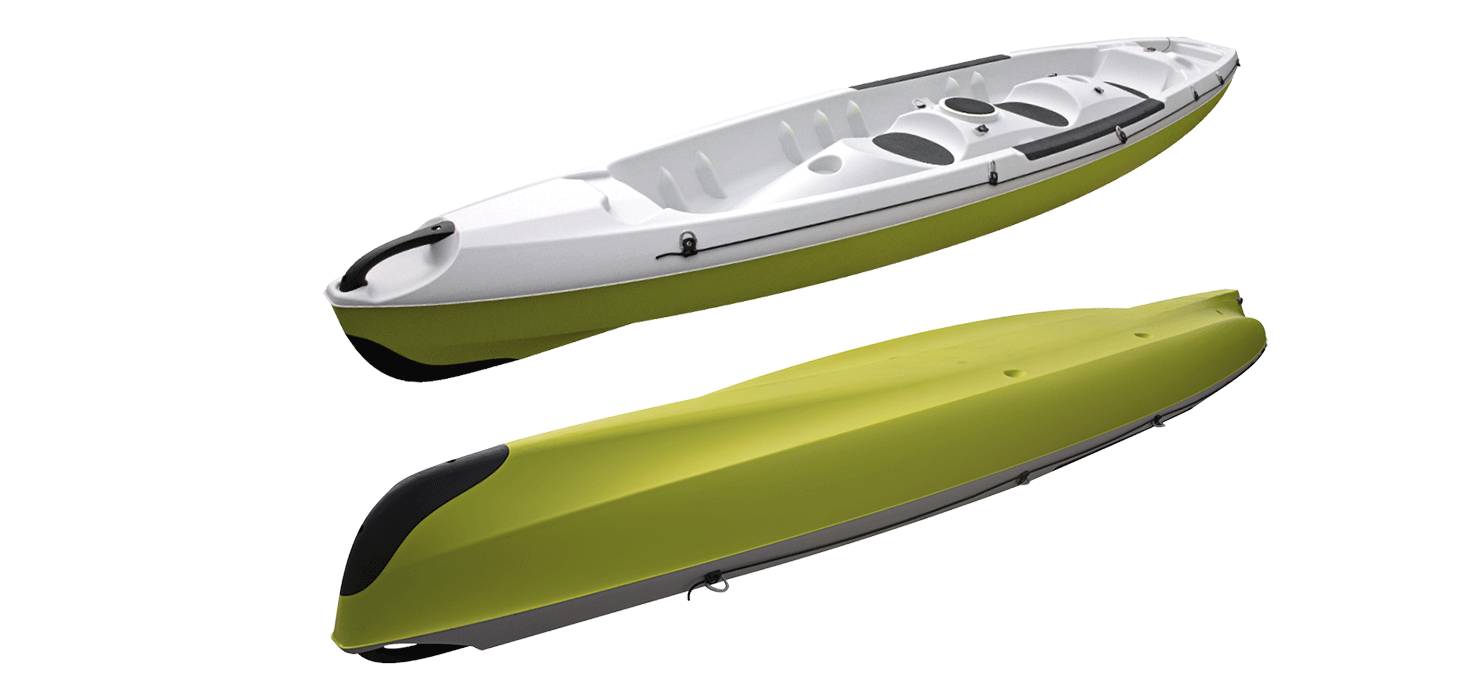 Super Solid Build Quality
• The deck and hull sections are formed and sealed together
in one single operation = incredibly durable. The join line is
invisible and 100% secure.
• TST is creating a product that is lighter, stronger and
smoother finished than rotomoulding.
• Our polyethylene is anti-UV treated and highly resistant
to knocks and scratching = exceptional durability.
• Molded external fin inserts = no penetrations through outer
shell and maximum strength.

Products using this technique:
Kayaks, O'pen Skiff, Dinghies
---
Inflatable and Soft Technologies
All of the hard shell boards you will find are manufactured at our Vannes, France facility. Why not 100%?
At this time the technology and assembly requirements for inflatables, soft-top surfboards and some kayaks are not yet possible at our factory. So we've partnered with exceptional manufacturing facilities specializing in these products who build them to the exact specifications of our design team. Our long-term goal is to constantly increase the percentage of components
and finished goods that can be sourced and manufactured in France.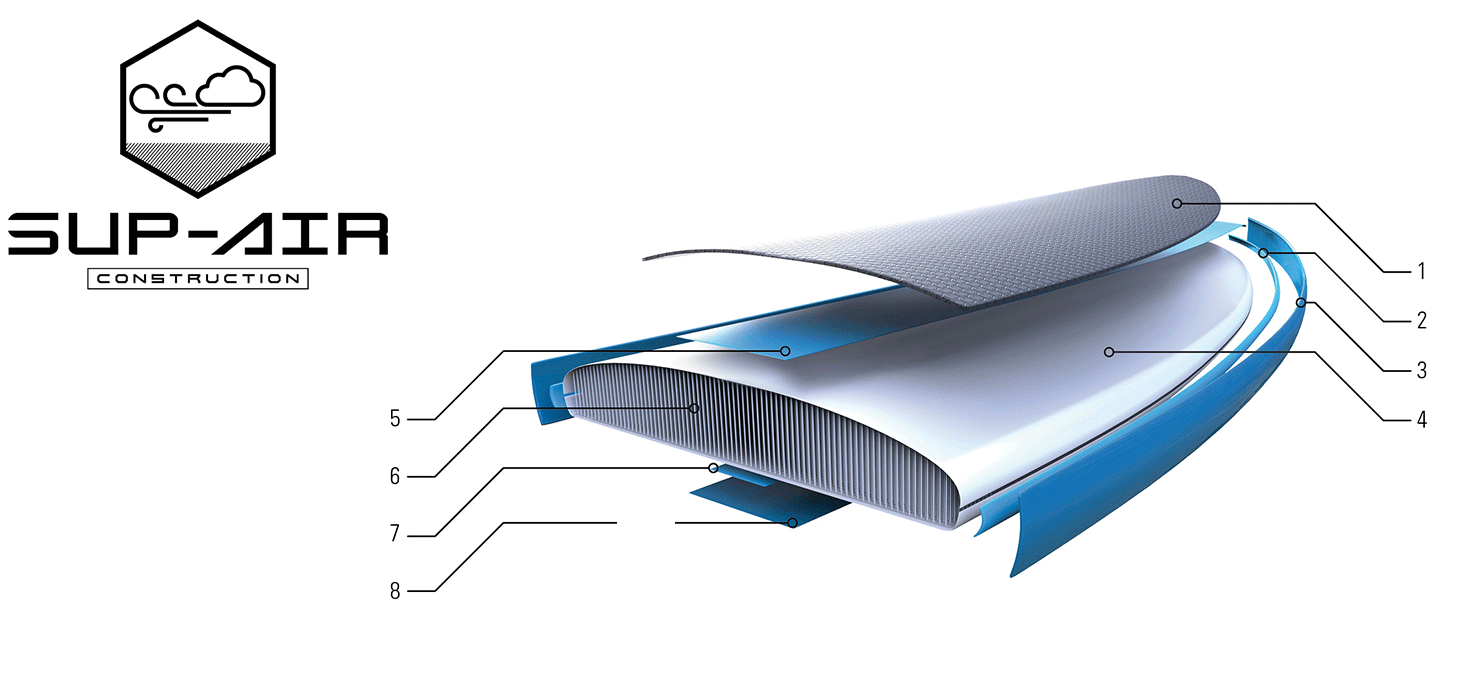 1- Deck Pad. / 2&3- Inner and outer PVC layer reinforcement along the rail.
4- Single layer PVC. / 5&8- PVC stringer patch.
6- High Density Dropstitch 4"75 or 6" thickness. / 7- Bottom stringer.
Key Features
• Board thickness varied according to intended function.
BREEZE Performer 10'6 with 4"3/4 thickness for thinner
rails and better surfing, improved stability due to lower center
of gravity. All other boards with 6" thickness for
maximum stiffness.
• Ultra-light construction = easy to carry
• Reinforcements along the rails give the board very efficient
protection against abrasion.
• BREEZE Boards : Top & Bottom Stringer improves
stiffness vs. traditional inflatables.
• Twin Stiffening Stringers on SUP-YAK models.

Products using this technique:
Beach & Breeze Inflatable SUP
---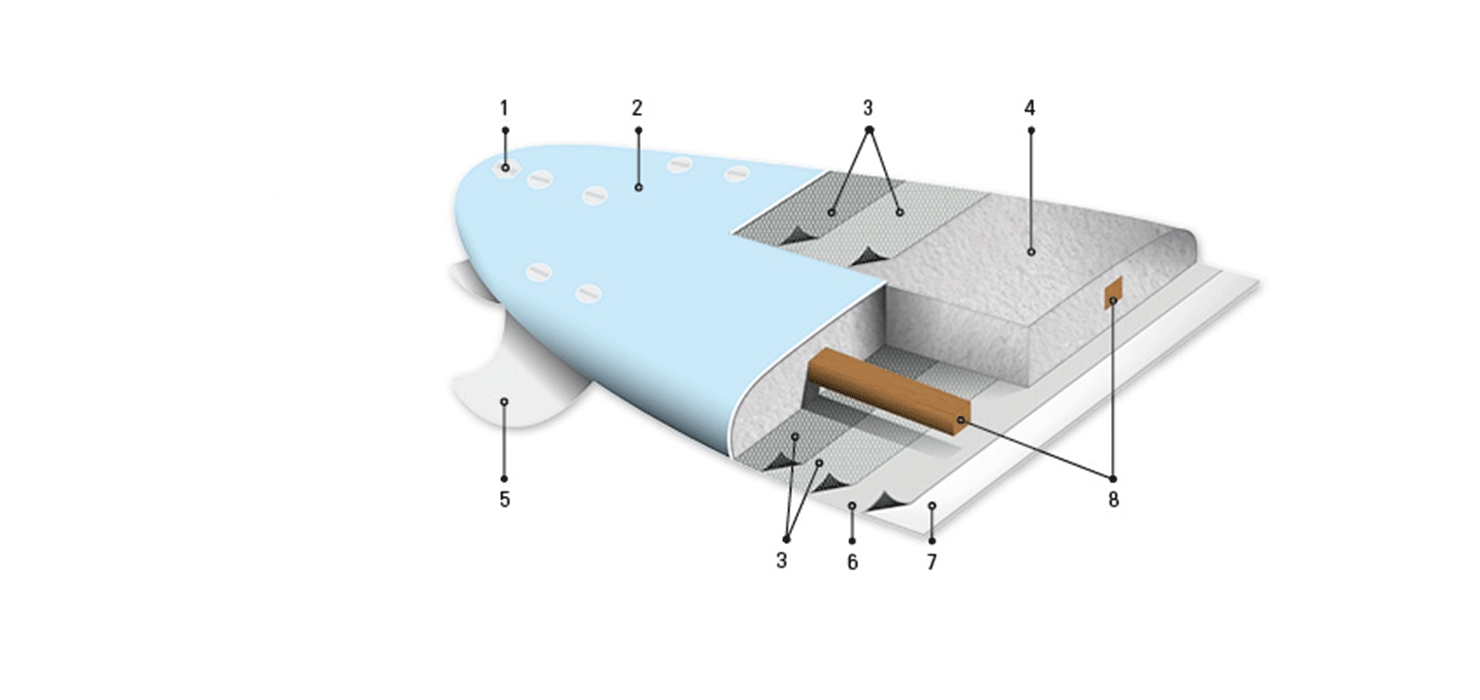 1- Leash plug / 2- Soft deck and rails / 3- 2 x 6oz Fiberglass layers + epoxy
4- EPS foam core / 5- Soft plastic fins / 6- Soft foam layer
7- Hard slick bottom / 8- Wood or composite stringers
PAINT / SOFTBOARDS Technology
Key Features
• Fiberglass & epoxy reinforced core = durability and
enhanced product lifetime.
• Soft IXPE foam top/rails and soft fins = comfort and
user-friendly performance.
• Durable protective deck layer = protects graphics.
• Soft, user-friendly fins with performance shapes =
safety and performance.



Products using this technique:
PAINT Surfboards
---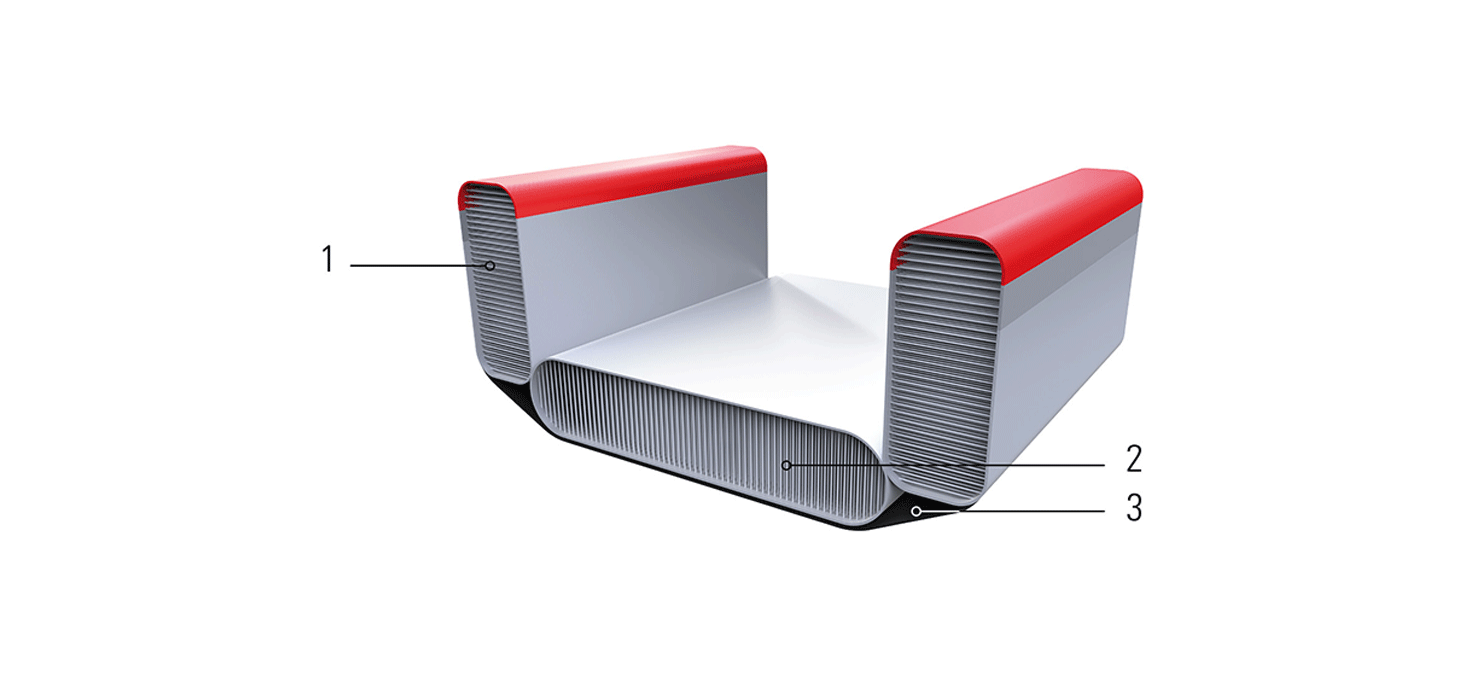 1- Side air chambers made of Drop Stitch material.
2- Bottom floor made of Drop Stitch material.
3- Reinforced PVC skin on the hull.
DROP STITCH SSL Technology | High Pressure (HP)
Key Features
• Drop Stitch SSL (SelyTec Single Layer) technology.
• High quality PVC specially treated to resist UV deterioration
with an excellent resistance to the folding and unfolding :
superior strength and rigidity, much lighter weight.
• High-resistance fabrics with perfect water-tightness:
avoids any risk of water infiltration.
• The panels are assembled using "Advanced SelyTech V2"
exclusive glue: sealing and holding power with resistance
to water and high temperature.



Products using this technique:
Inflatable FULL HP Kayaks
---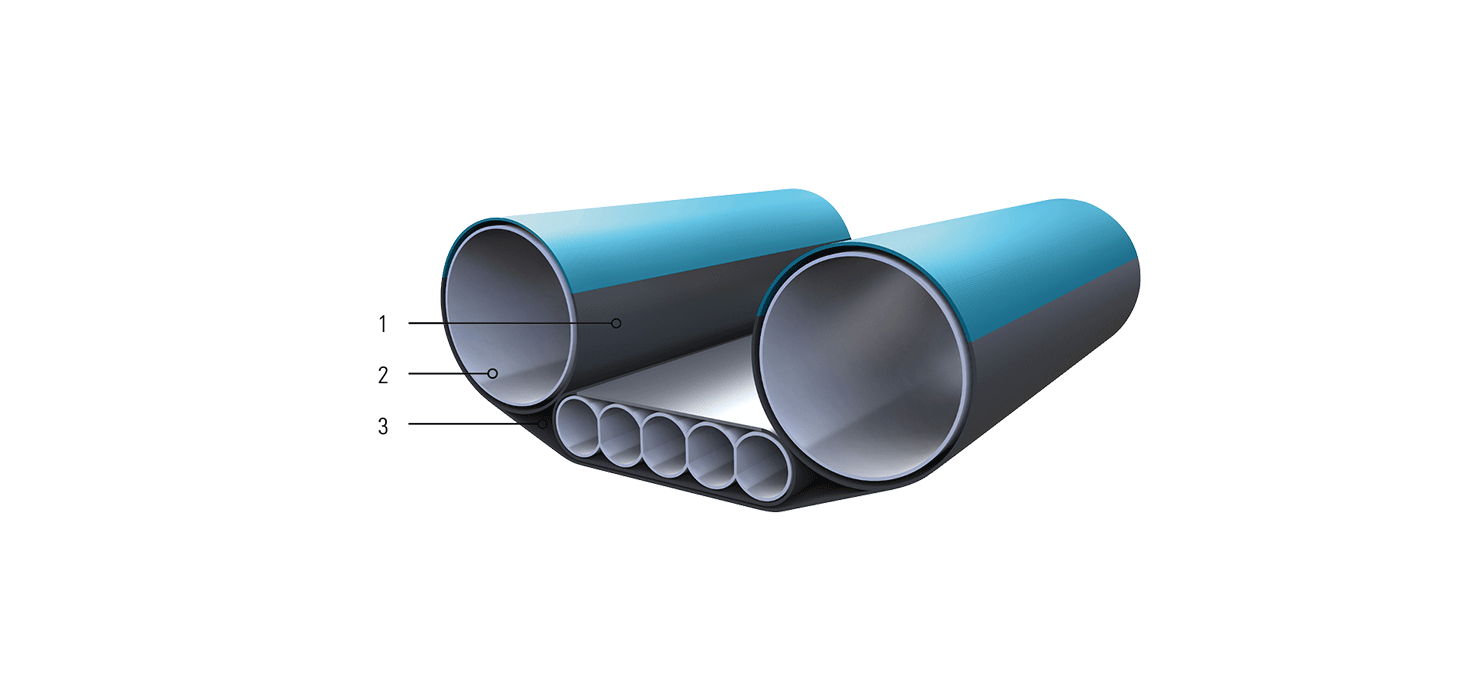 1- Nylon skin with highly resistant PU coating.
2- PVC bladder.
3- Heavy duty abrasion-resistant hull skin.
INFLATABLE LP KAYAKS Technology | Low Pressure (LP)
Key Features
• 3-Chamber Construction for rigidity, stability and safety.
• Durable outer nylon shell with UV resistant coating.
• Replaceable Internal PVC Air Bladders.
• Rugged Tarpaulin hull for durability.
• Fast and Easy inflation / deflation.

Products using this technique:
Inflatable LP Kayaks
---