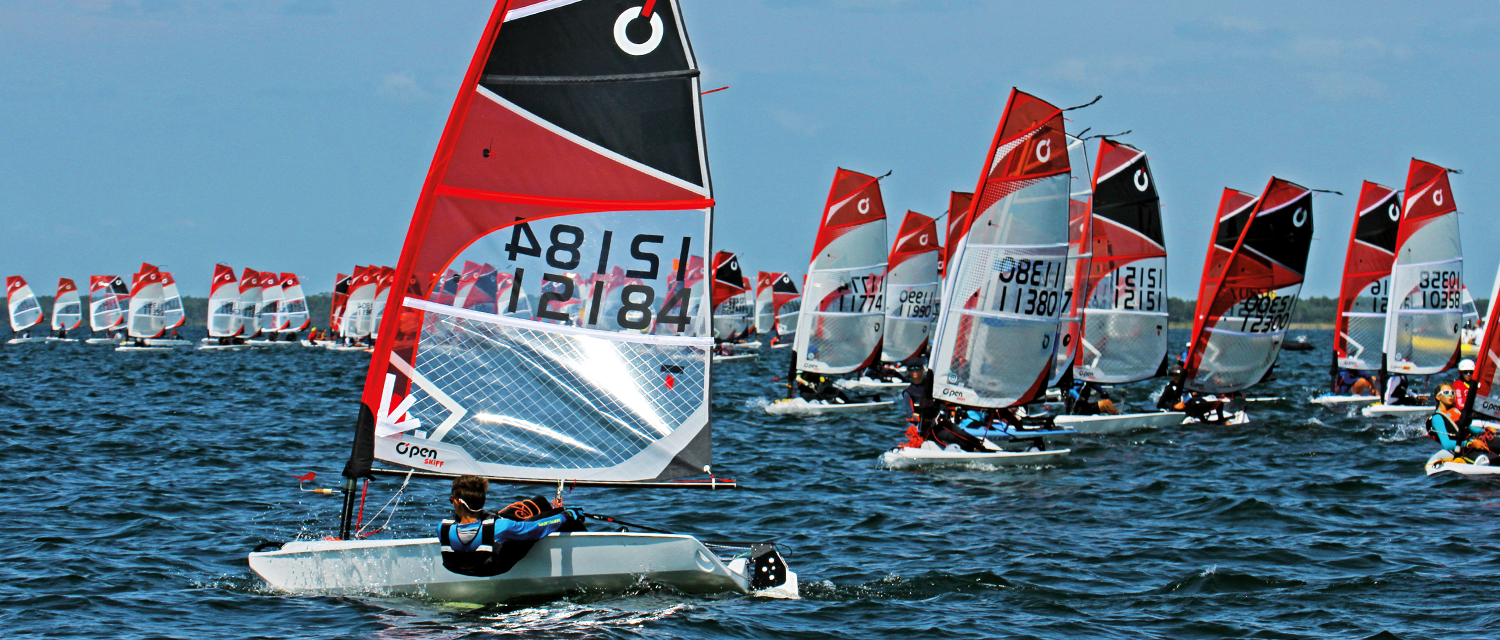 THE MONOTYPE VISION BY TAHE
Over the last 20 years, TAHE (previously BIC Sport) has successfully launched 3 monotype classes that have been rapidly approved and taken up by World Sailing as the perfect vehicles for young competitors with products that have sold in their thousands all over the world.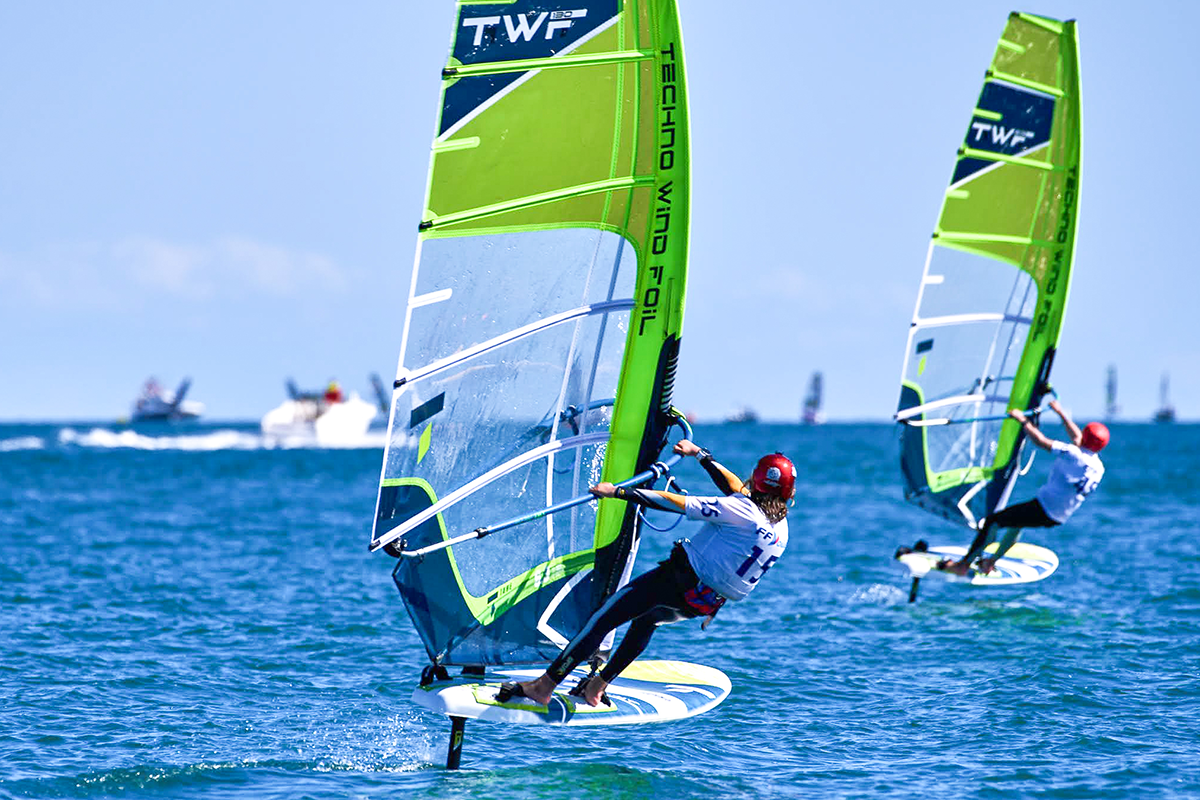 Equipment for progress and fun
The Techno 293 OD windsurf board (launched in 2005), the O'pen Skiff racing dinghy for kids and teenagers (2006) and more recently the Techno Wind Foil 130 windfoil board (2021) have enabled thousands of young wannabees to learn a new board/water sport and to get into One Design competition.
Their big plus-point? Enabling youngsters to learn, progress, and start racing at a high level on equal terms on identical equipment. It's a key element for sailing clubs and for individuals, meaning they can invest in equipment they can be sure will be long-lasting, high-performance and all-round versatile.
one-design for fair racing
By avoiding the « arms race » scenario, TAHE's One Design classes guarantee a "level playing field" during competitions. Every single entrant is on the start line with the same chance of success, it's just a question of who has the best skill set that makes the difference.
All 3 of these monotype series have become nurseries for encouraging new talent that can be taken forward all the way to Olympic level, open sea racing, and plenty of other high-prestige sailing opportunities.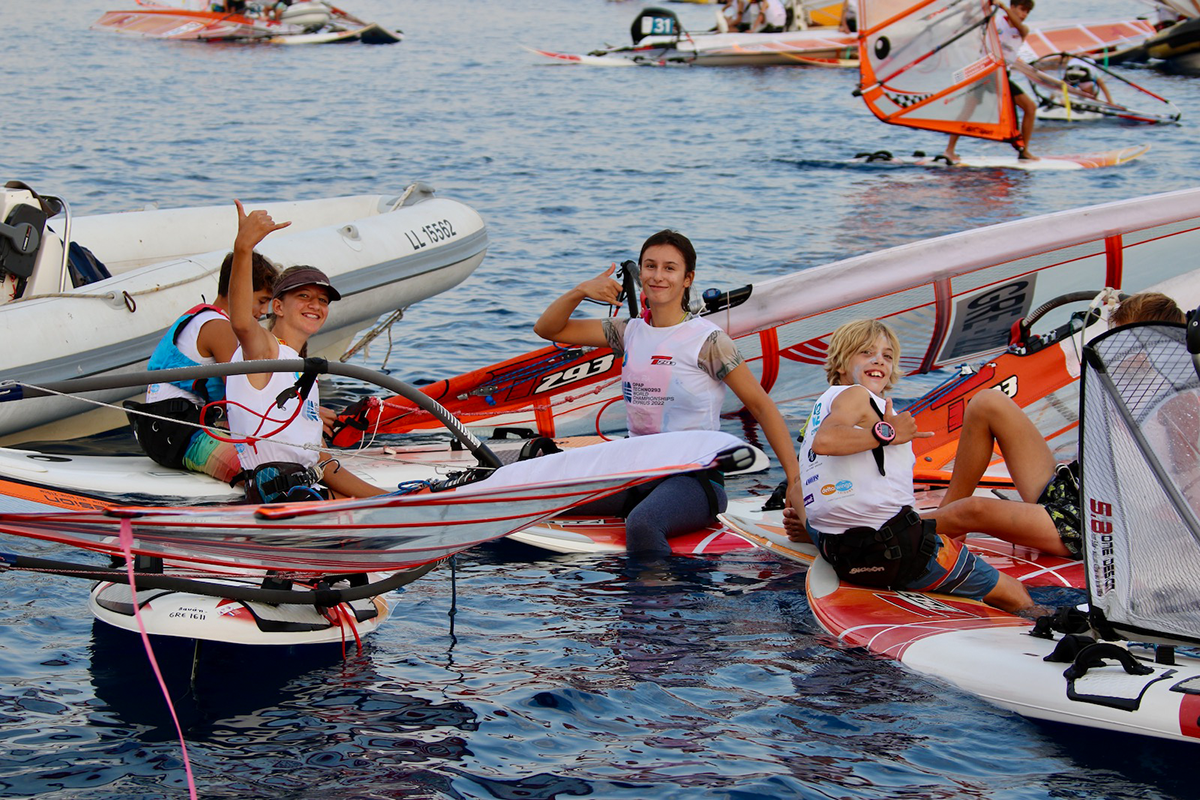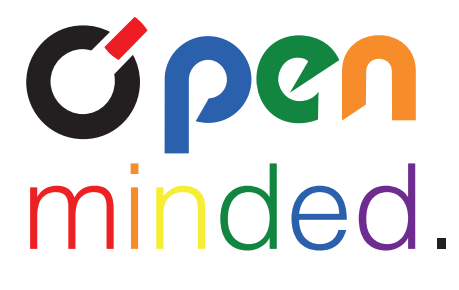 competition, but not only
Above and beyond consistent performance, it's the positive Techno/O'pen mind-set that is characteristic of all three classes and has influenced generations of newcomers.
Thousands of youngsters have been able to share great experiences on and off the water, make new friends from all over the world, and go home afterwards with memories to last a lifetime. Spotlight on 3 key factors that have ensured that success, combining the best elements of a great concept and the fundamental/core values of the TAHE principle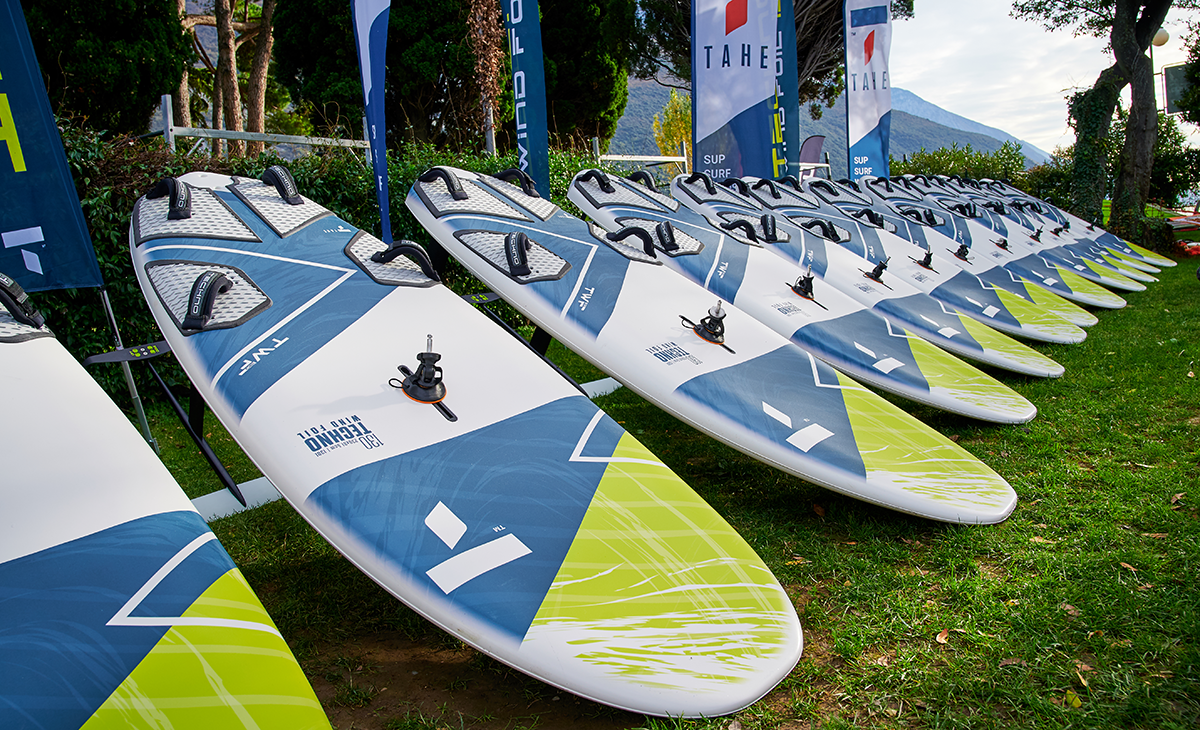 • 100% made in France
• Worldwide distribution network to more than 90 countries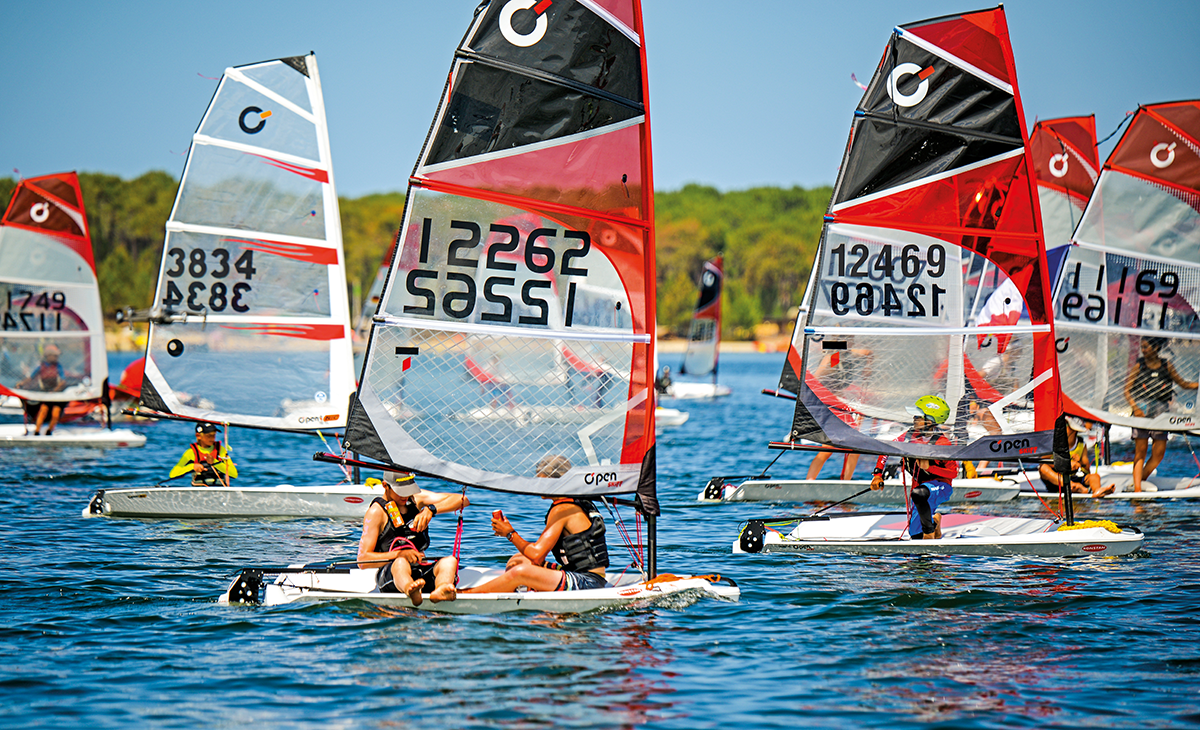 • High-performance but easy-riding designs
• Affordable pricing
• Equipment that evolves with your skill level, with sails properly adapted to competitor age categories and the conditions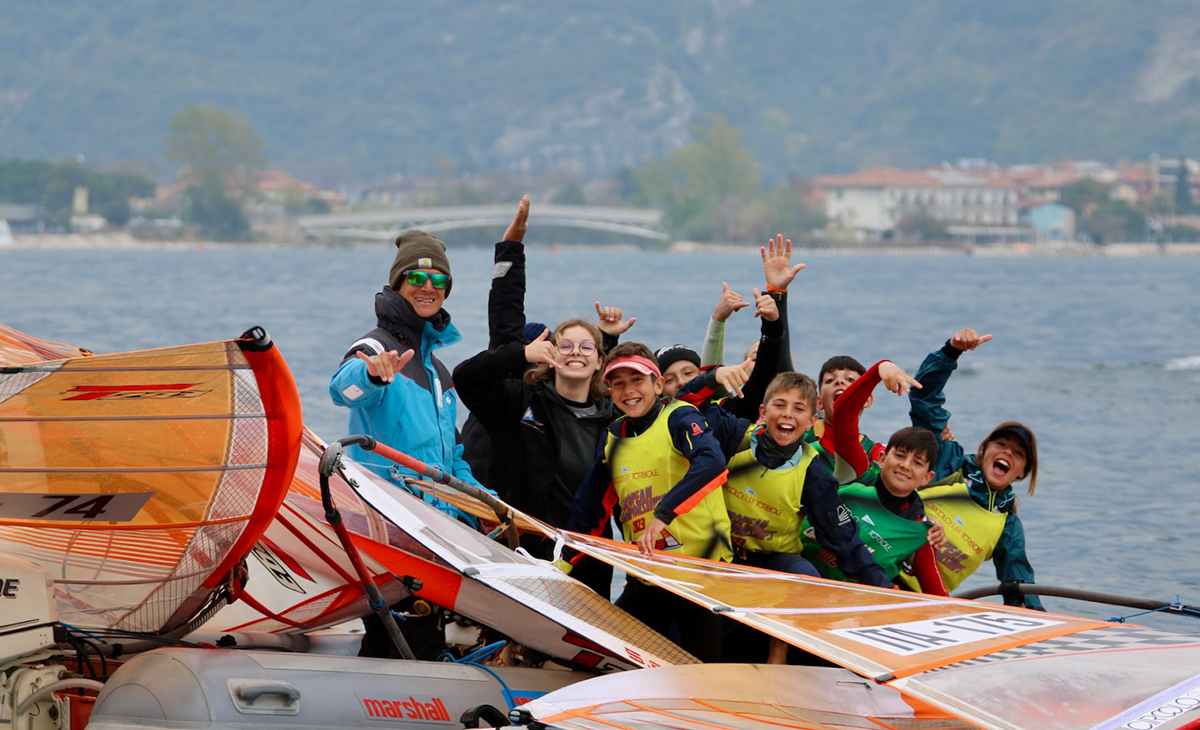 • High skill levels and total fair play on the water
• Friendly atmosphere on the beach
• Making and keeping friends of all nationalities
• Opening up board and water sports opportunities to new/future generations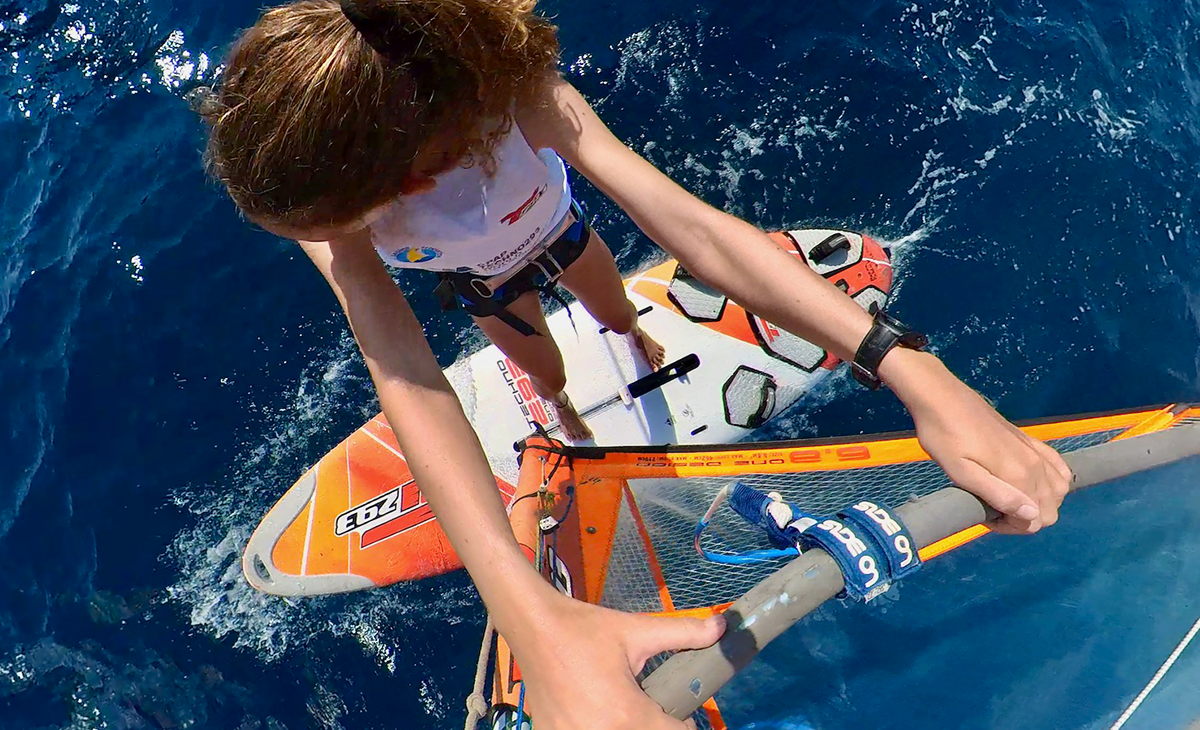 • Tough, long-lasting equipment
• Inexpensive and easily available spare parts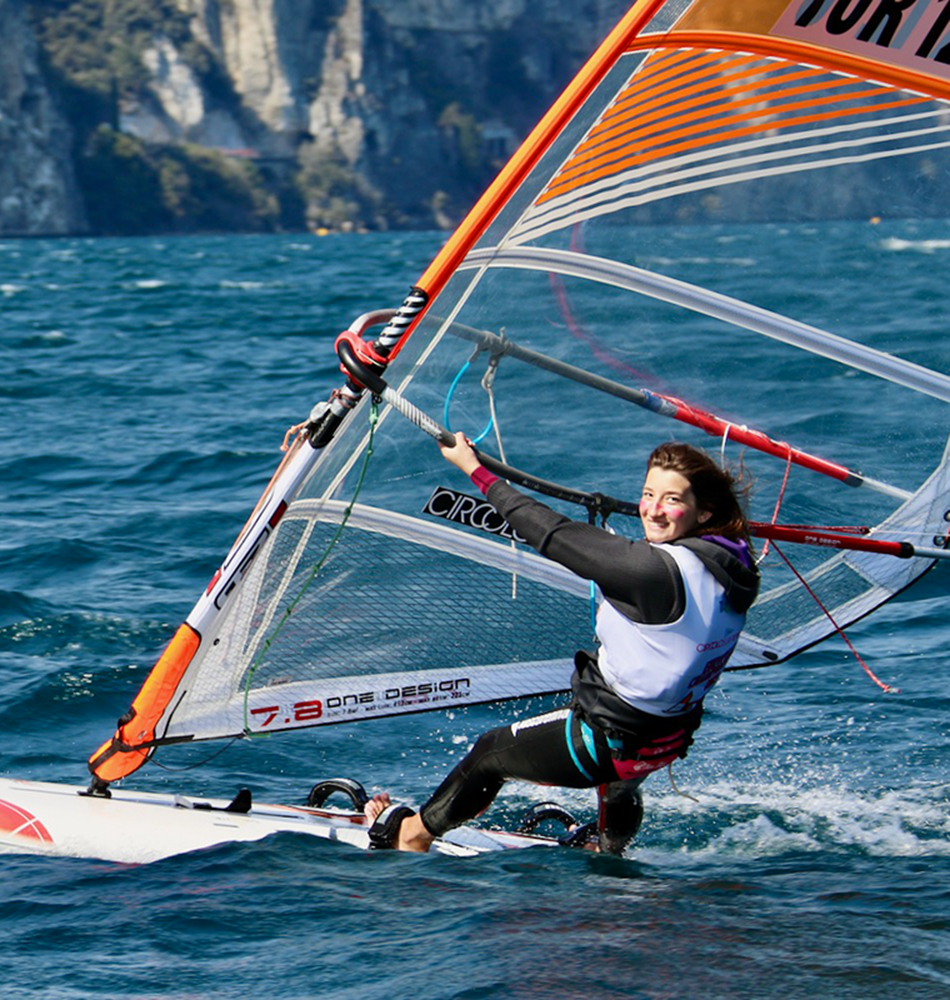 The Techno 293 OD has been the official international monotype board for under 17 sailors everywhere since 2006. Nowadays the worldwide fleet numbers over 10,000 boards sailing in 50 countries, with a regular annual programme of national and international competitions. Techno 293 OD is the biggest monotype board fleet in the world.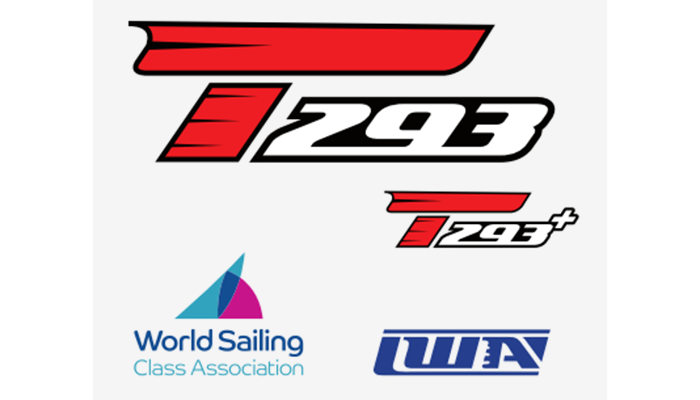 a board for all ages and conditions
The Techno 293 OD has a shape that makes it possible to sail in a vast range of different conditions. The result is that competitions can run from 5 to 25 knots of wind, with the board performing excellently through the entire range whilst remaining easy to handle even for the lightest weight riders. These qualities have helped drive the monotype class popularity we all recognise and make the board the perfect tool for learning and progressing.

Its generous volume and 80cm width give it excellent stability for making your first runs and make learning simple. In lighter winds its 3 metre length give it excellent glide even in "non-planing" winds, and the daggerboard makes getting back upwind easier. When conditions are good for planing, its triple-concave hull has great acceleration, giving the Techno 293 OD the exciting feel of funboarding.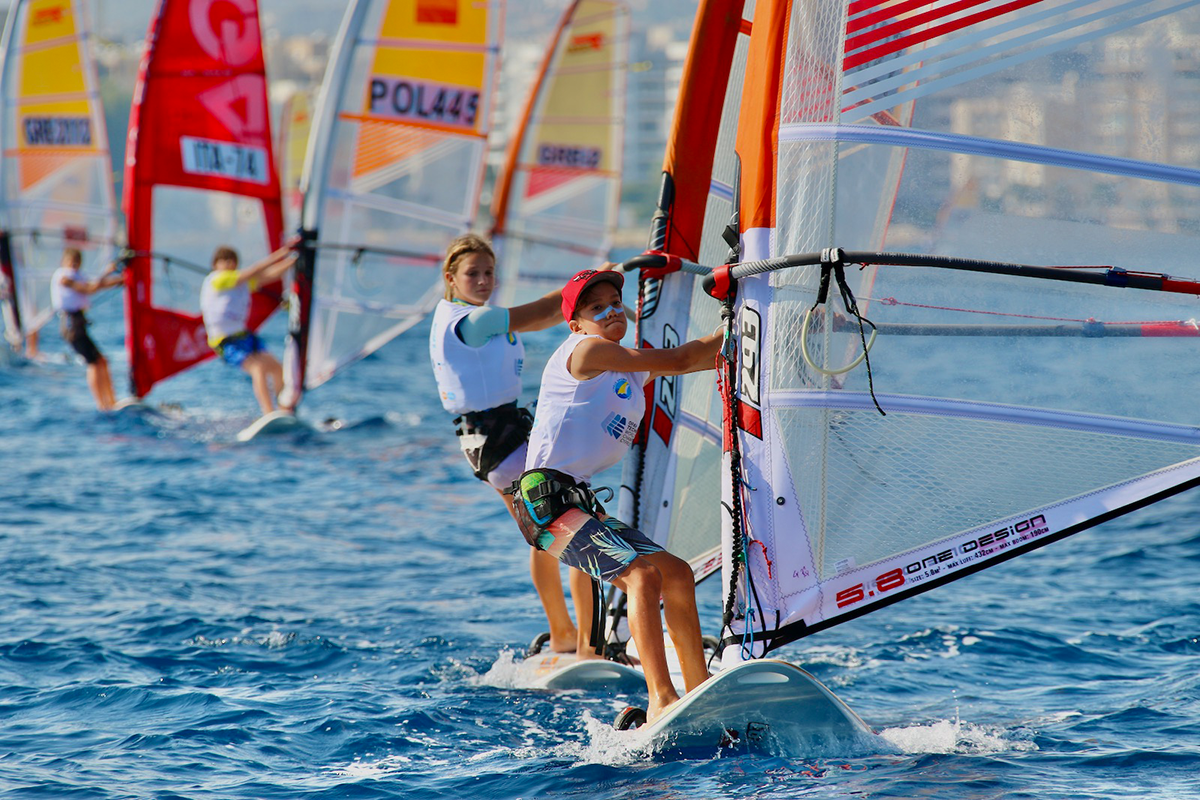 This dual-personality of "easy riding high performance" enables sailing clubs to economise their expenditure, with one single board serving for both school and competition, also simplifying their equipment logistics (storage, maintenance).

Same goes for the sail rigs, the sizes available vary according to age category, and the board can take the full range from 2.5m2 (schools) to a whopping 8.5m2 for the older/bigger riders competing in Techno Plus.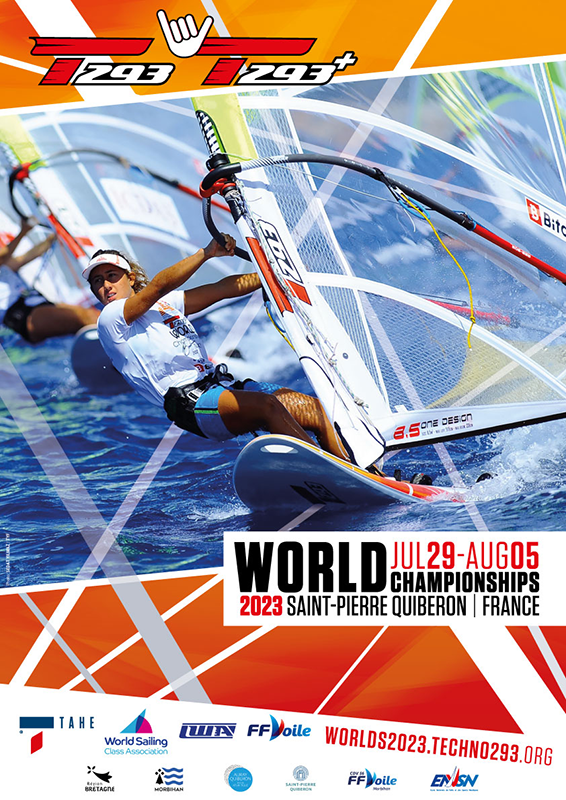 FORTHCOMING MAJOR INTERNATIONAL EVENTS ON THE 2023 CALENDAR

Techno and Techno Plus World Championships:
29th July to 5th August - Quiberon/France

Event website: https://worlds2023.techno293.org/

For all the latest information on the Techno 293 OD class: https://techno293.org/

Social media:
@t293class
The Techno Wind Foil 130 is an all-in-one concept for getting the max from freeride AND from foil riding. You can enjoy riding it in a huge range of conditions. It's a "hybrid" concept that is very popular with clubs and individuals because it allows you to learn the basics easily then, if you want, progress to high level competition.
The Techno Wind Foil 130 is already internationally recognised as a stand-alone class by World Sailing.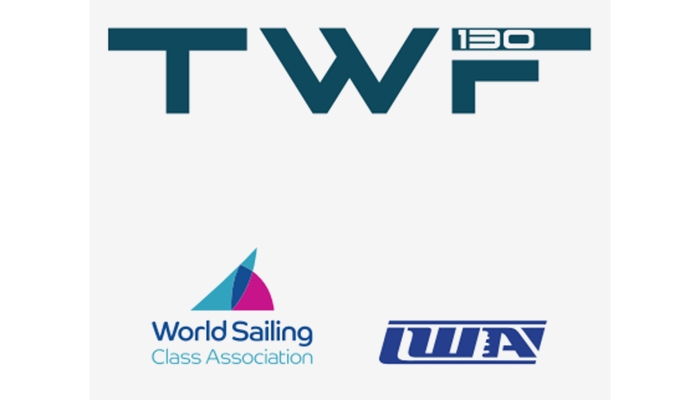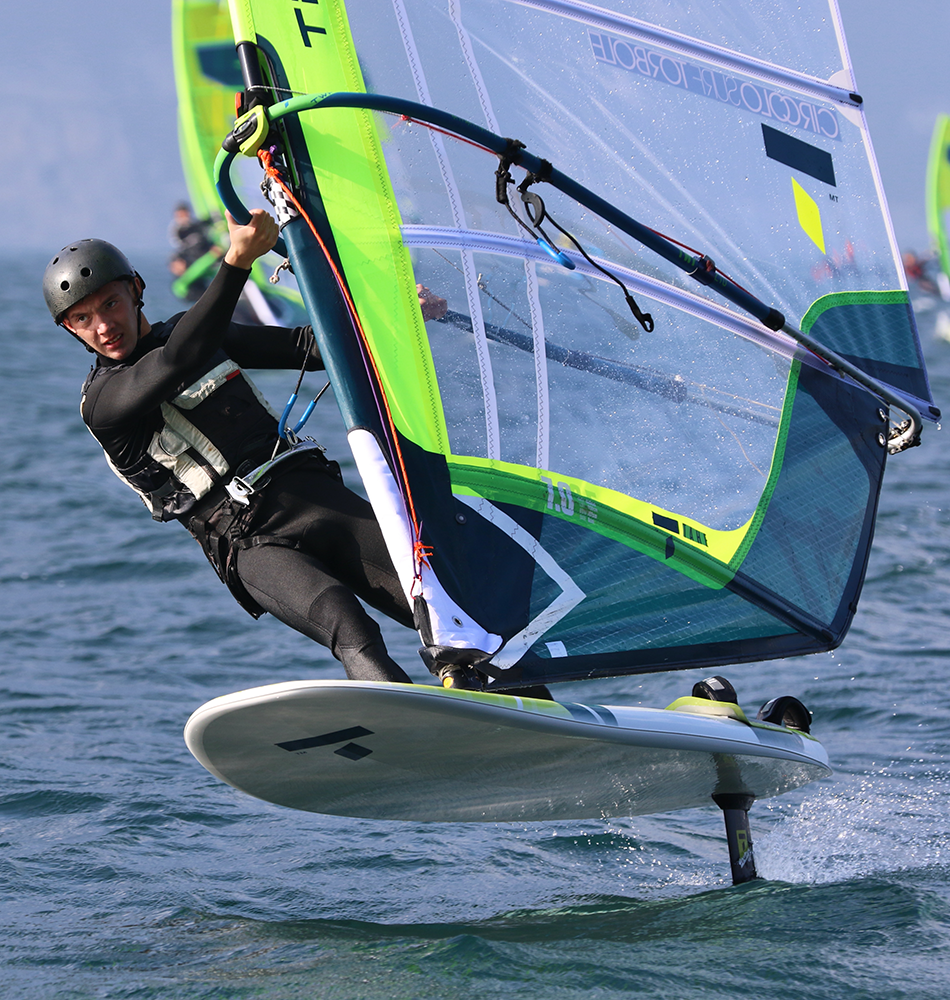 Windsurf foil set-up
When you're riding on the foil, the board is well balanced, and which lifts off easily from 9 or 10 knots of wind. Its shape gives you a wide platform to make lift-off simple, stable and effortless, leaving all the work to the foil.
Slalom set-up
With its Select fin (included/supplied), it's a windsurf board that is easy to ride, is quickly up to planing speed, and is easy to control even in difficult rough water. It's fast and responsive. Optimum conditions for maximum fun and excitement are 15 – 25 knots wind.
This all-in-one easy-riding convertible gives complete beginners the perfect way of learning funboard and windsurf foil all at once, and for more advanced/demanding riders it's the best value combo that you can learn to foil on and then take all the way to monotype competition.
Some « Foil-specific » sail rigs are available, but the class race rules only sanction official Techno One Design rigs to help keep the costs of competing down for everyone.

Now that it is World Sailing recognised, Techno Wind Foil 130 monotype is in a phase of rapid development many of the leading sailing nations, and already has a programme of national and international competitions scheduled for 2023.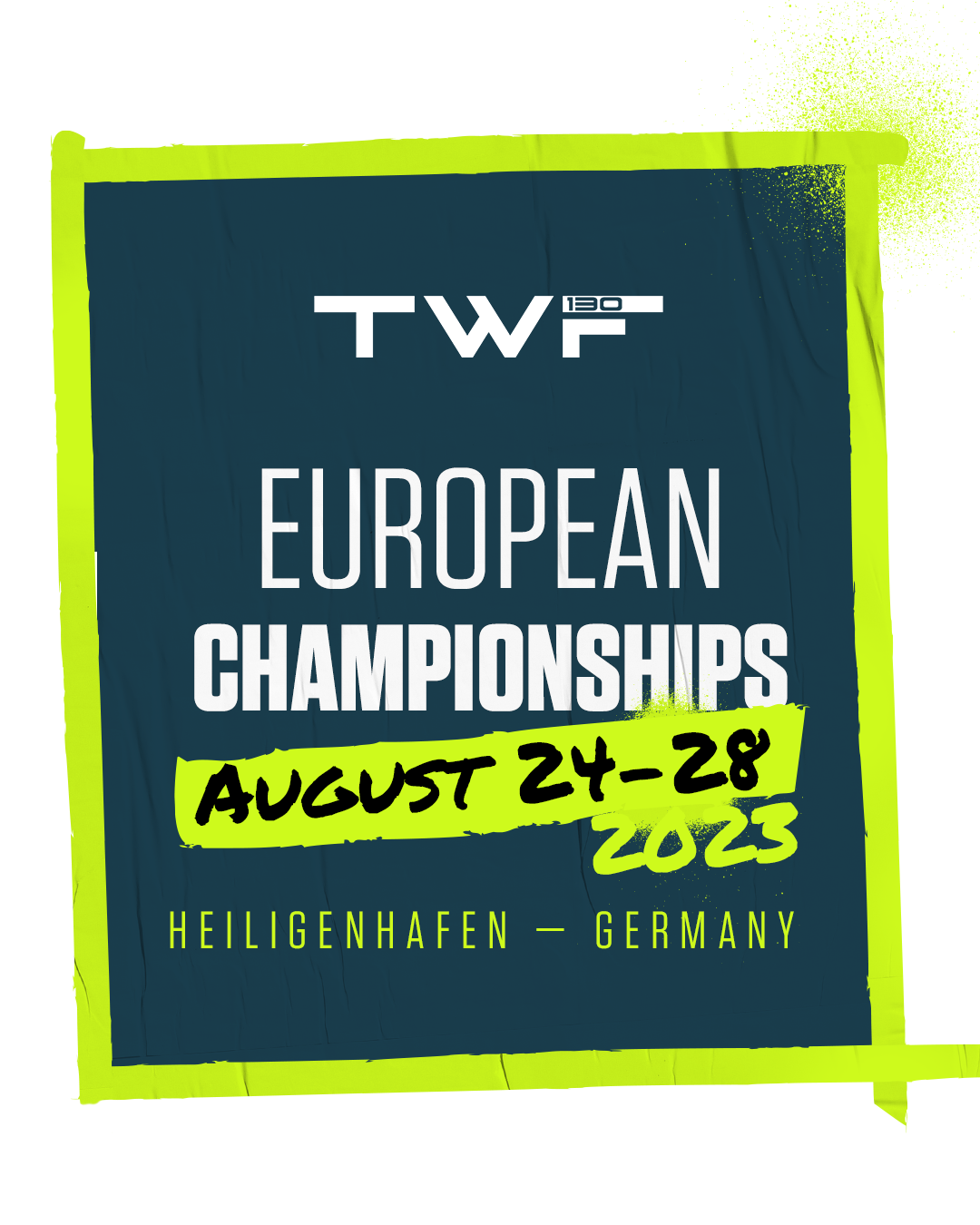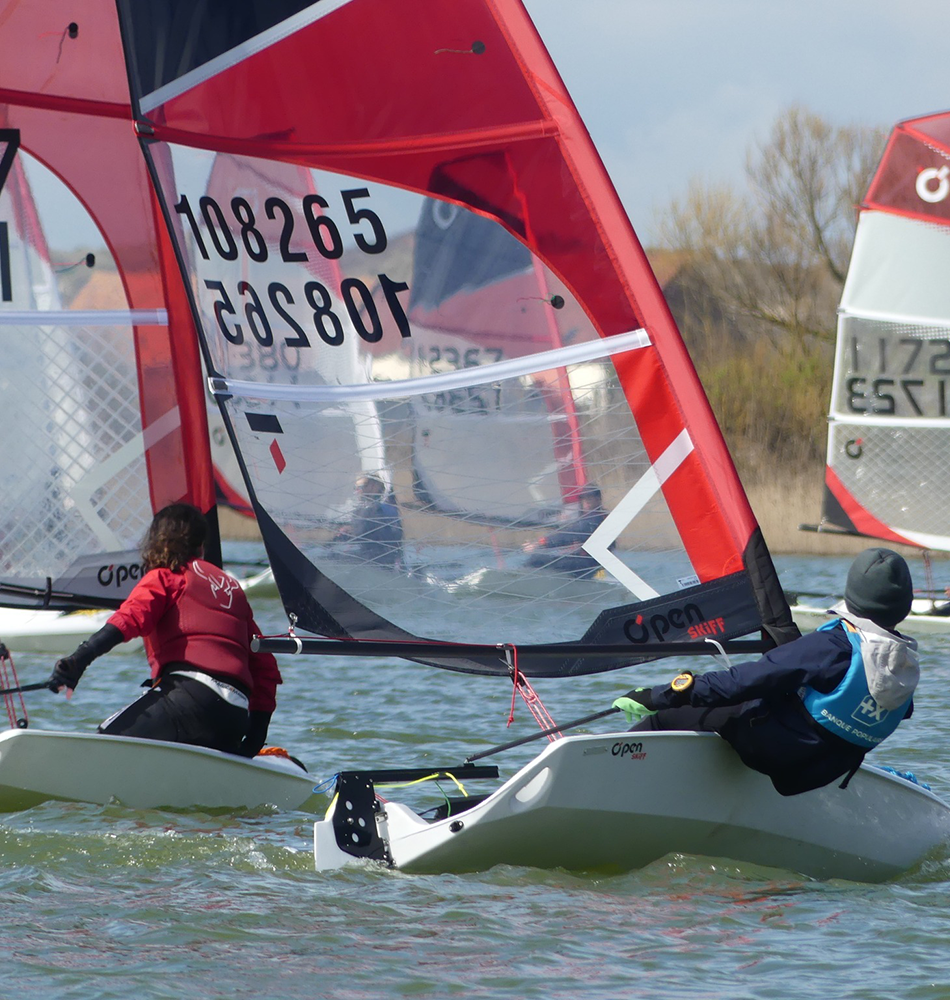 O'pen Skiff has blown fresh air into the sails of modern sailing, with a concept close to the fastest, most up-to-date skiffs, designed for youngsters and the future generations of skippers.
It's a lean, mean, racing machine that is also perfect for learning to sail safely and easily, and very quickly acquiring the skills to be able to max you fun and/or get into competing in a class that offers great fun and unrivalled dynamism.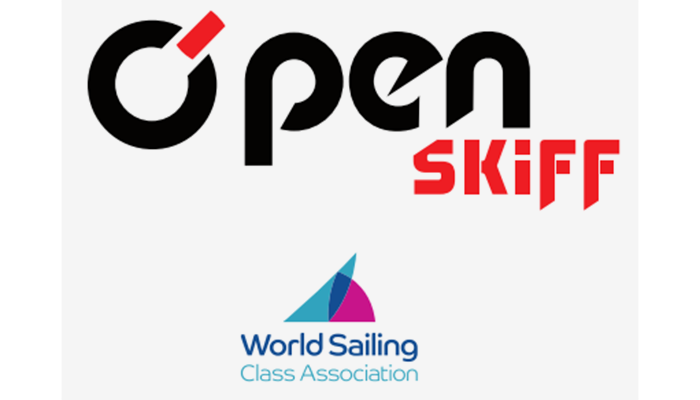 a fast, easy-to-handle boat
The O'pen Skiff hull design is all about making sailing enjoyable. It's a totally modern boat with an open transom self-bailing cockpit making moving around inside it easy. The overall design, especially the chine angle (the bottom edge where the hull joins the side wall), is all about speed and responsiveness.
It's a shape that gives an excellent combination of performance and stability at all speeds, in all conditions, for all skill levels. Downwind, the O'pen Skiff is quickly up to full speed. Tacking upwind, the split-hull delivers great forward speed, course-holding and fine-tuned steering response. Standing still, the open self-bailing cockpit makes it safe, simple and ideal for beginners.
Two sail rig options are available, each adapted to its age levels and skills: a 4.5m2 monofilm version for Under 17 and Under 15 age group racing, and a 3.5m2 Dacron version for the Under 12s and complete beginners.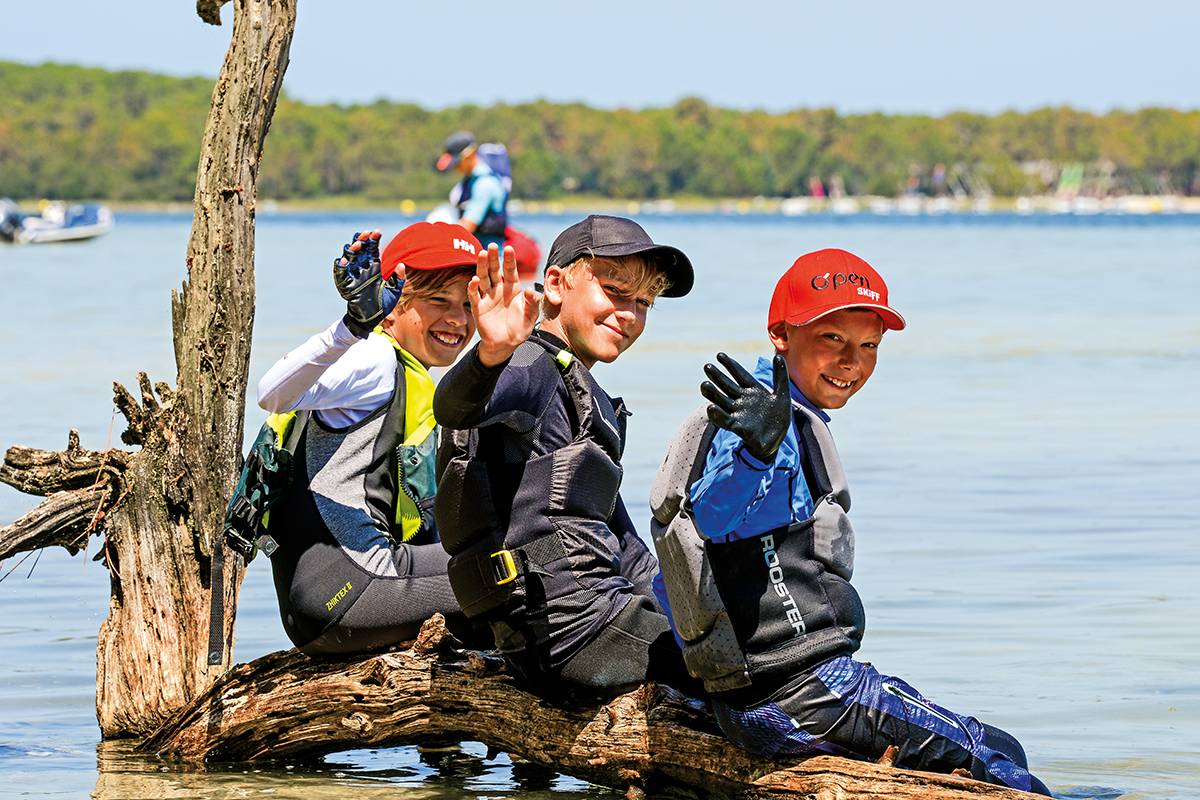 Already, hundreds of sailing clubs the world over have acquired fleets of O'pen Skiffs, to be able to teach sailing in a different way, attracting increasing numbers of thrill-seeking youngsters.
These future world class sailors are what constitutes the O'pen Skiff class as things stand, twenty countries already seriously signed up, more to come, and for Under 17 would-be Olympians there's a full, structured calendar of national and international competitions.