THE BENEFITS OF SUP YOGA
By TAHE #ENDLESSPLAYTIME
Stand UP Paddle ADVICES
THE BENEFITS OF SUP YOGA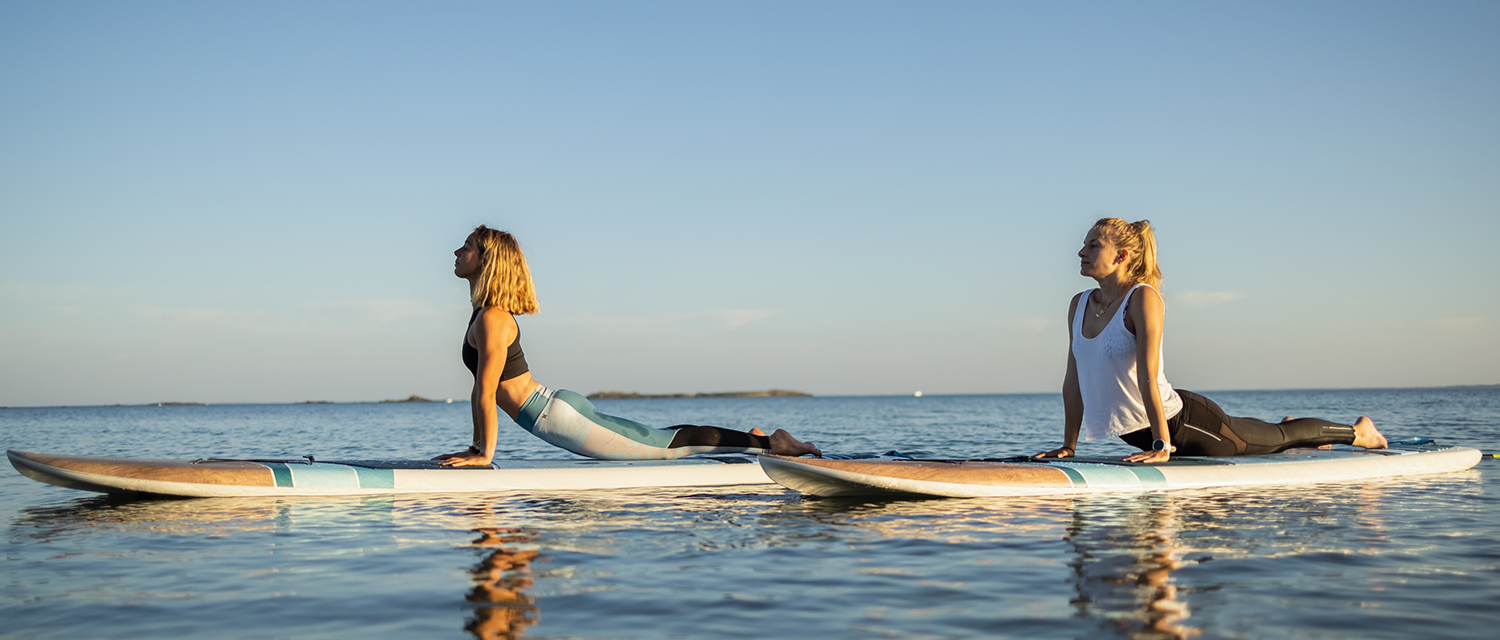 Have you experienced the joys of SUP yoga?
Do you want to but have something that's holding you back?
Here are some tips to get you started!
Is it difficult to stay focused? How do you avoid falling in the water? Is it even fun? These are some of the questions that may be running through your mind when thinking about SUP yoga. Don't worry, feeling hesitant or skeptical is completely normal but once you're out in the water, your fears will quickly melt away.
No need to be a professional paddle boarder or a master yogi, SUP yoga is something anyone can do! In addition to being fun, SUP yoga is a good workout that comes with a whole host of proven health benefits.
Yoga provides internal balance and deep relaxation while standup paddling engages your back, shoulders, arms, and core. The two practices are complimentary—doing yoga atop a SUP is an added challenge that will help improve your overall well-being and health.
The benefits of practicing SUP yoga

Grab a paddle and go!
---
1|RECONNECTING WITH YOUR INNER SELF
Serenity, relaxation, and connecting with the environment: the pluses of land yoga are equally applicable to SUP yoga. Enjoy discovering a new range of sensations by taking up your yoga positions while balancing atop your paddleboard.
Take some time out for yourself, free from distractions. Yoga helps you learn to manage your stress and your breathing, allowing you to free your mind and fully relax.
You feel aligned, re-centered, and at peace. What better way to recover from or prepare for a busy day?
2|CONNECTING WITH NATURE
Practicing yoga outdoors to the rhythm of the water creates a unique atmosphere and gives you a whole new set of sensations—the waves lapping against your board, the feel of the wind, the sounds of wildlife all around, and the sun on your skin.
The movement helps you to deeply relax and creates the feeling of being rocked to sleep. Can you imagine a more peaceful setting?
3|IMPROVING YOUR PHYSICAL CONDITION
With SUP yoga, you will improve your muscle strength, even the deepest muscles get a workout. Practicing yoga on a less stable surface forces you to work on your balance, your flexibility, proprioception, and your core strength.
You'll notice progress after just a few sessions, and it will become easier each time you practice.

As you improve, you can challenge yourself with new, more demanding yoga positions. Use your imagination; the possibilities are endless.
---
4|ENJOY THE MOMENT
The most important thing in SUP yoga is to enjoy yourself and be in the moment, regardless of your level or goals. It's an opportunity to spend time with like-minded people and make new friends while getting in a good workout.
What's the worst that can happen? You could fall in the water? A quick dip will be refreshing and is a sure way to spice up your session. Try not to take yourself too seriously and fully immerse in the experience.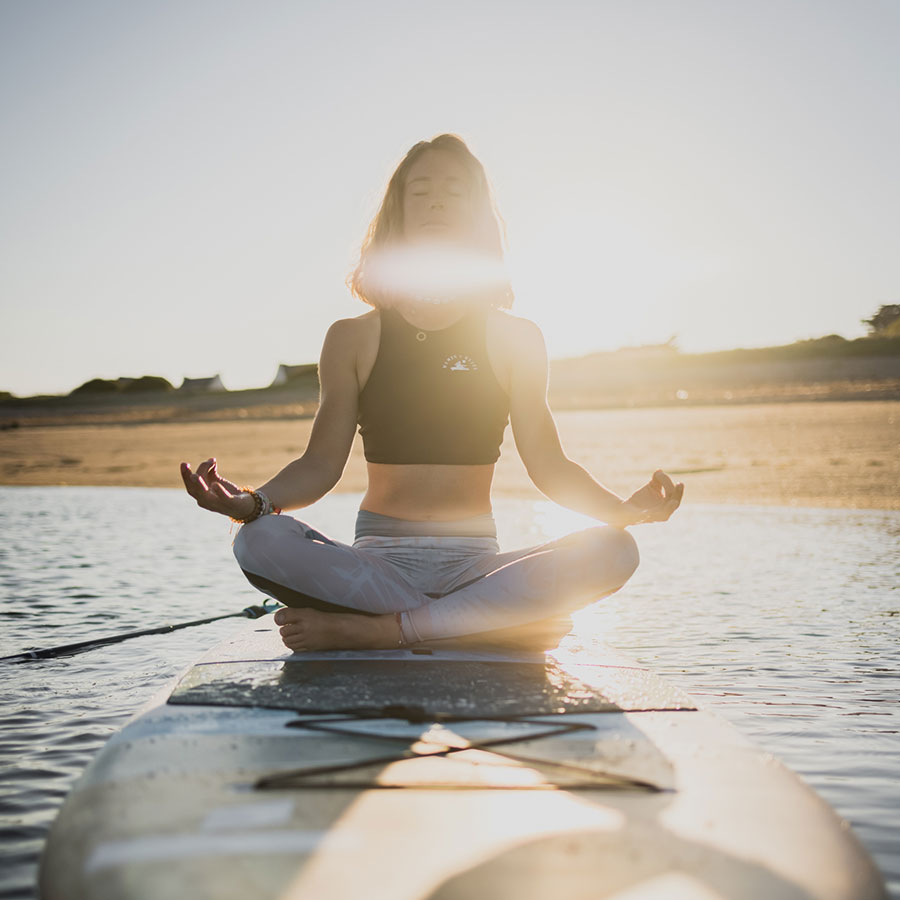 ---
To get started, all you need is a wide, stable SUP board, a paddle, a leash, and a PFD. You'll also want to wear something that will keep you warm and that you don't mind getting wet (in case you fall in).
To set yourself up for success, find a calm body of water to practice on. If you don't feel comfortable going on your won, seek out a coach or a trainer to show you the ropes.
TIME TO KIT YOURSELF OUT WITH TAHE


#ENDLESSPLAYTIME



---
1|CHOOSING THE RIGHT SUP
If you want to do SUP yoga, steer towards the more versatile boards, designed for flat water paddling. They're better for beginners too.
With the same board you can enjoy discovering the full range of SUP activities and fun basics. Their generous volume and width give you all the confidence you need, delivering easy steering and excellent stability on flat water. The wide, deep dimensions and curved rocker shape combine to give excellent control. They're specifically designed for learning the basics, exploration, Yoga, fishing, etc.... And their big nose volume is perfect for carrying your kids, your dog, or a bag of equipment.
2|NEVER FORGET THE EXTRAS
Whether you're learning SUP Yoga, or simply learning to SUP, always remember that there are some essential extras you must have with you at all times : Leash and paddle obviously, but also a life jacket in case of emergency.
We've got all the extras you could possibly need to be sure you'll enjoy learning to stand up on the water.
EN CE MOMENT
Profitez de -10% sur votre première commande avec le code :
TAHE10
TAHE is a brand born from the union of BIC Sport and Tahe Outdoors, two legendary companies famous for decades of commitment to water sports. BIC Sport's board sport culture, manufacturing expertise and focus on family fun is now combined with Tahe Outdoors dedication to exploration and craftsmanship. The result is a brand dedicated to Endless Play Time on the water with family and friends of every skill level.
"TAHE EMBRACES THE CORE VALUES OF BIC SPORT AND TAHE OUTDOORS WHILE BUILDING A NEW LEGACY AROUND THE IDEA OF ENDLESS PLAY TIME. WE ALL DREAM OF THE ENDLESS SUMMER, OF FUN AND ADVENTURE WITH FAMILY AND FRIENDS THAT IS TIMELESS AND MAKES US TRULY FEEL ALIVE. THIS IS WHAT WE SEARCH FOR, AND HOPE TO FIND, EACH TIME WE VENTURE OUT ON THE WATER."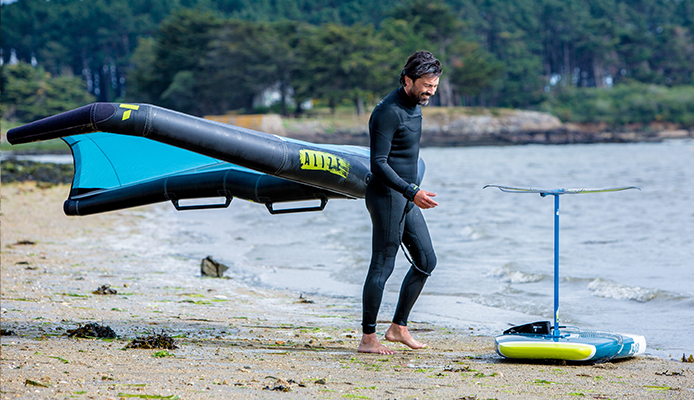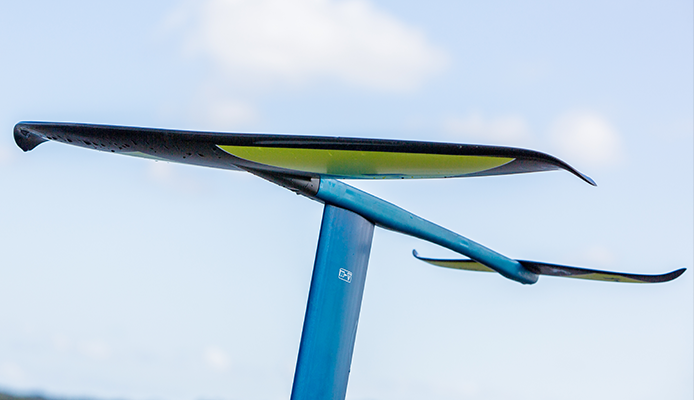 À la RECHERCHE D'UNE PLANCHE ?
Découvrez les planches Aria, conçues pour offrir
aux nouveaux riders de nouvelles sensations de plaisir
et une grande marge de progression.
... OU D'UNE AILE ?
Comme les vents chauds et réguliers qui soufflent à travers les tropiques, les ailes Alizé sont stables et légères. Décollage garantit !
...OU D'UN FOIL ?
Les foils Aquilon sont la combinaison idéale pour apprendre à "voler" !
Un foil, deux tailles, conçu pour vous aider à apprendre avec style et à progresser rapidement.