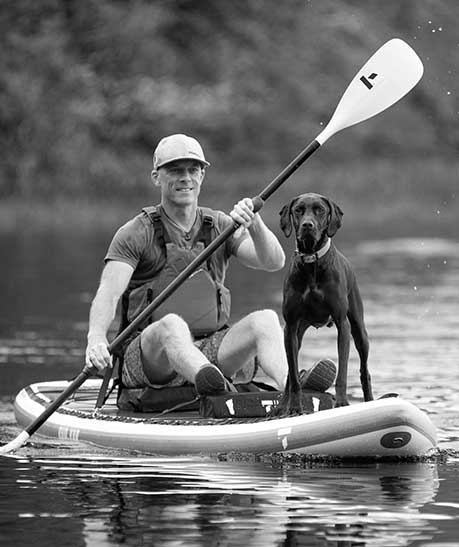 Jimmy is the Product, Marketing and Digital Manager for TAHE America. He has worked for BIC Sport / TAHE for more than ten of his 30 years in the watersports and boardsports markets. Jimmy's interest in being in and on the water started with his dad taking him fly fishing as a kid. After years of spending time with his dad on the water he discovered whitewater kayaking and was instantly hooked. He spent over a decade as a professional kayaker, logging around 300+ days a year on the river, pioneering first descents across the USA and becoming US National Champion in 2003. These days he lives in Rhode Island and spends as much time on the water as possible for both work projects and with his family.
What inspired you to create/design the new 2021 SUP-YAK?
We receive lots of inquiries from customers asking for advice about which they should choose, a paddle board or a kayak. For many of them the right answer is "both", especially those who value versatility for casual paddling with family and friends. The challenge is that the '2-in-1' products on the market today typically offer a sub-par experience for one or the other activity. We wanted to solve this problem and create a product that was truly optimized for both SUP and sit-on-top kayaking. Each component was tested and refined with the goal of simplicity and user-friendly performance. Oh, and it all had to fit in the backpack!
What was the process like when the design team were creating/designing the SUP-YAK?
We like to start by investigating what is currently on the market, then determine where improvements can be made that would benefit the user. We constantly try to put ourself in the shoes of the end user and ask how any particular feature or benefit would improve their experience both on and off the water. It's just as important to make the product easy to set-up as it is to make it comfortable or perform well on the water.
How can people separate the SUP-YAK from other 2-in-1 boards?
The Daisy Chain Attachment System is totally unique. It allows you to position the seat, footrest, deck bungee and other accessories anywhere along the length of the board. This is especially important for the seat and footrest as it allows riders of all sizes to properly trim the boat (proper trim is when you are positioned on the kayak without being stern heavy or bow heavy, which is inefficient). Also the seat itself has a three inch cushion that improves comfort as well as ergonomics.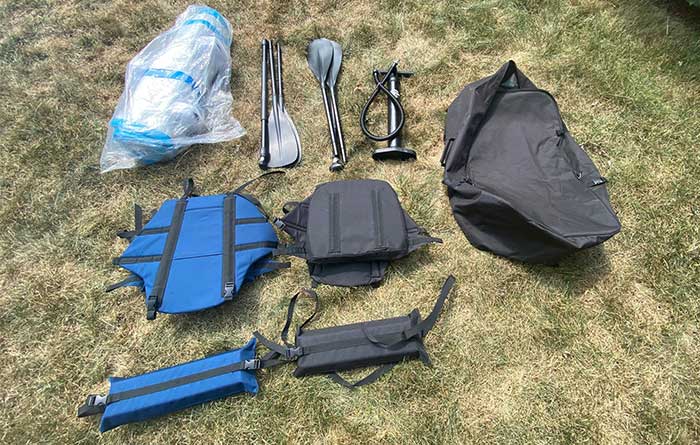 Early prototype components of the 11'6 SUP-YAK complete package.
You want your hips slightly above your heels when paddling a kayak. If you sit directly on the board with nothing to elevate your hips it puts strain on your back and hamstrings and makes it harder to maintain proper posture.
An early prototype of the Daisy Chain Attachment System
How did you come up with the Daisy Chain Attachment System currently designed onto the SUP-YAK?
I knew we needed multiple locations to attach the seats and footrest. I didn't want to use d-rings because I wanted to keep the board soft and user-friendly along the rails since people love to jump off and climb back on their board (especially kids!). Daisy chains offer the functionality I wanted in a soft, non-abrasive material. With my mother-in-laws expert sewing help we made a few rough prototypes first and installed them on an old test board to see how it would work. Once I knew it was feasible we moved to building prototypes with the factory to see if we could scale the idea.
What technology is the SUP-YAK built with?
It's a high-pressure inflatable technology that's both lightweight and very durable. We customize the lay-up to optimize rigidity and the rocker (curve) of the board. This allows us to make an inflatable that's easy to transport and store with performance similar to a rigid board/boat.
When testing out the prototypes, what were you able to catch before finalizing the design of the SUP-YAK?
I love prototypes! They're always exciting to receive because you know you're going to be trying something new. Sometimes it's spot on and exactly what you imagined, while other times you realize your idea won't work. Either way it's so important because without physical prototypes you're just guessing, or designing on paper, and that leads to bad designs or missing details that can become big problems when you go to production. On the SUP-YAK we dialed in the specific type of webbing we wanted to use on the Daisy Chains, and also the type of thread to use and how to sew them for maximum durability.
Were you able to test the SUP-YAK prototypes and final products with your family and friends?
Absolutely! We never design a product and test it just ourself. Family and friends are my secret to success. I like to turn the product over to them and just observe how they interact with it. That tells me a lot about how a customer will be using the product.
And what were their thoughts on the product?
Everyone really loved the concept of the SUP-YAK, paddleboarding is great but so nice to have the option to sit down as well! With prototypes you're still ironing out the details so honest feedback that's not afraid to be constructively critical is the best.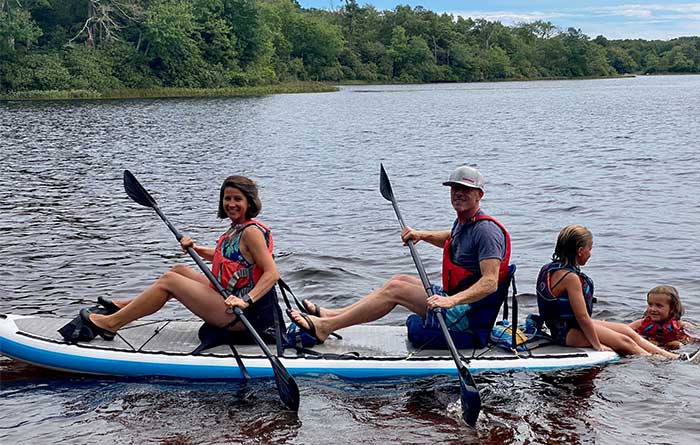 Jimmy testing out the SUP-YAK Prototypes with family.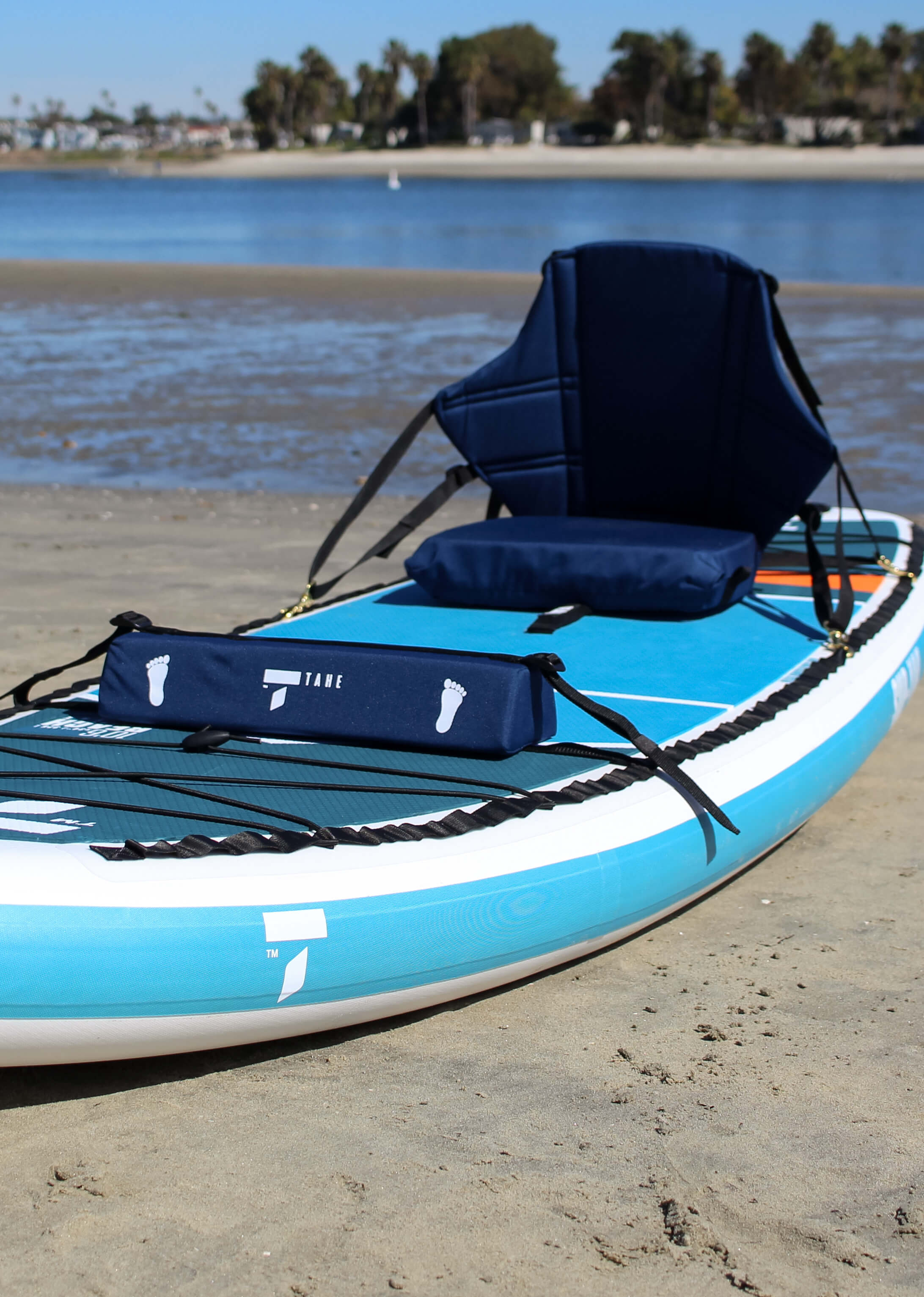 The SUP-YAK features the daisy chain system, seat and footrest, plus full length deck pad.
What special features would you like to highlight about the SUP-YAK?
It comes as a complete package so you have just about everything you need for a day on the water. The versatility of the daisy chain system, comfort of the seat and footrest, full length deck pad for use of the entire deck area and ultra-durable permanent fins for worry-free use are some of my favorites.
What are 5 reasons someone should look into purchasing the SUP-YAK?
If you can't decide between a paddle board and sit-on-top kayak then the SUP-YAK is a no-brainer! It's super stable and performs really well in both configurations. It's lightweight, very durable and super easy to transport and store - everything fits in the included backpack!
For whom is the SUP-YAK meant?
Because it's so stable and has a high capacity it has a really wide range of users. The 10'6 is ideal for one person use, and with 300lb capacity it's great for bringing along a pet or child. The 11'6 is ideal as an "XL" paddle board for one person, and as a tandem kayak for 2 adults up to 450lbs.