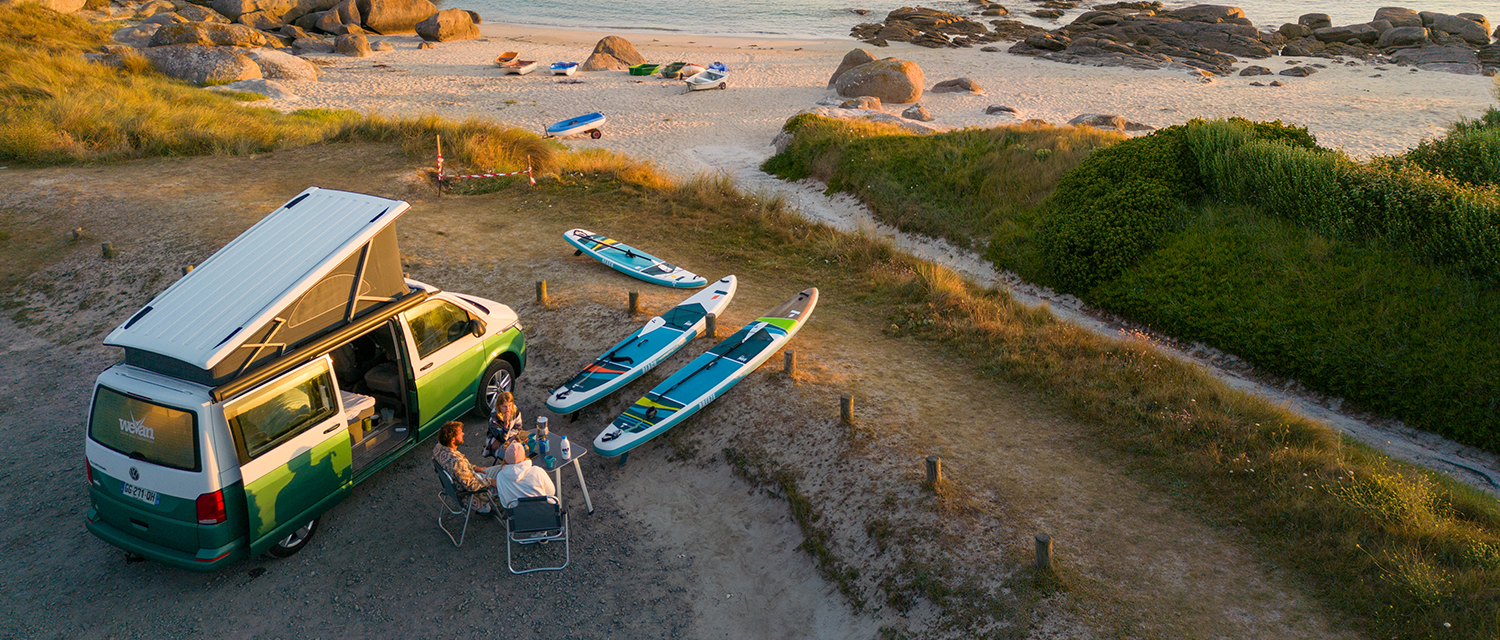 More and more people are taking to the road these days and embracing van life. As the name suggests, van life is living in and out of your van. Smaller and more discreet than a camper but with the same potential, a van is a great solution for getting away for weekends, summer holidays, and everything in between. Ask any surfer or watersports athlete and they'll tell you: a van is a great option for maximizing your time on the water.
Still not convinced? Check out our top five tips for making your next adventure a van adventure!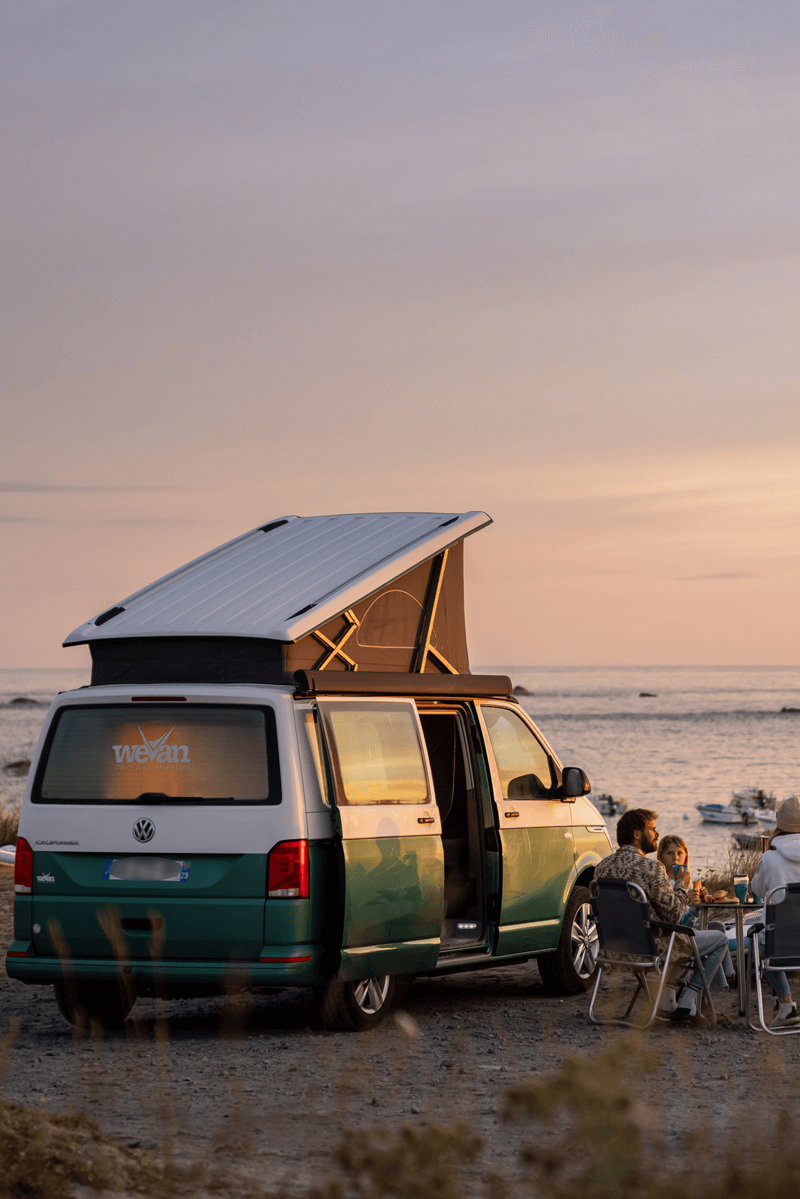 Choose your vehicle
The first step? Finding your new travel companion! Whether it's a vintage model or brand new, small enough to go almost anywhere or big enough to stand up in, 4 x 4 or electric, every type of van is different and corresponds to a certain style of travel and individual preference.
If you don't have a van and you're feeling a bit lost, you could try one of the numerous specialist rental businesses (such as WeVan) who have a range of fully equipped vans available. Depending on the model and its condition, you might luck out on an all mod cons van with a shower, air-con and fridge, but your experience can be just as enjoyable in a more rudimentary vehicle!
Optimise and organise!
Want to organise and outfit your van yourself? Think very carefully about space, especially the issue of storage. Life is much simpler in a fully fitted-out van. THE most important factor to consider if you're thinking about a family holiday/adventure in a small space: organisation. There's nothing more annoying than having to constantly get everything out just to find the one thing you're looking for. First tip: try to concentrate on taking only the essentials.
Second tip: separate things by need/purpose. A box for food, a box for eating and washing up equipment, a space for all your toiletries, a place for warm clothes, a space for lighter clothes, and a box for wetsuits and other water sport accessories—basically, keep everything in its place and have a place for everything. Be inventive, every square centimetre needs to be optimised!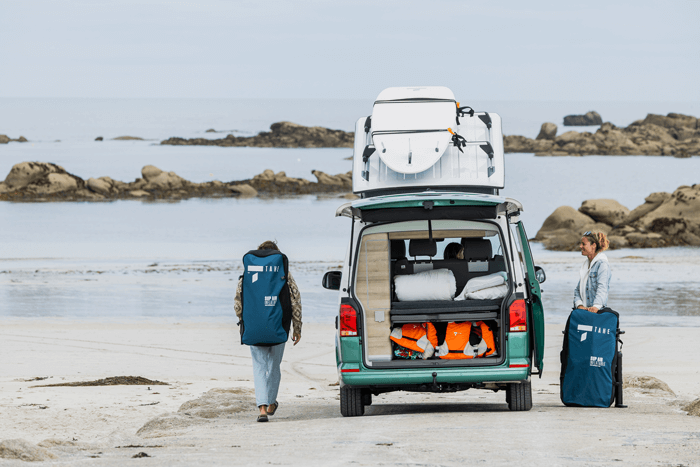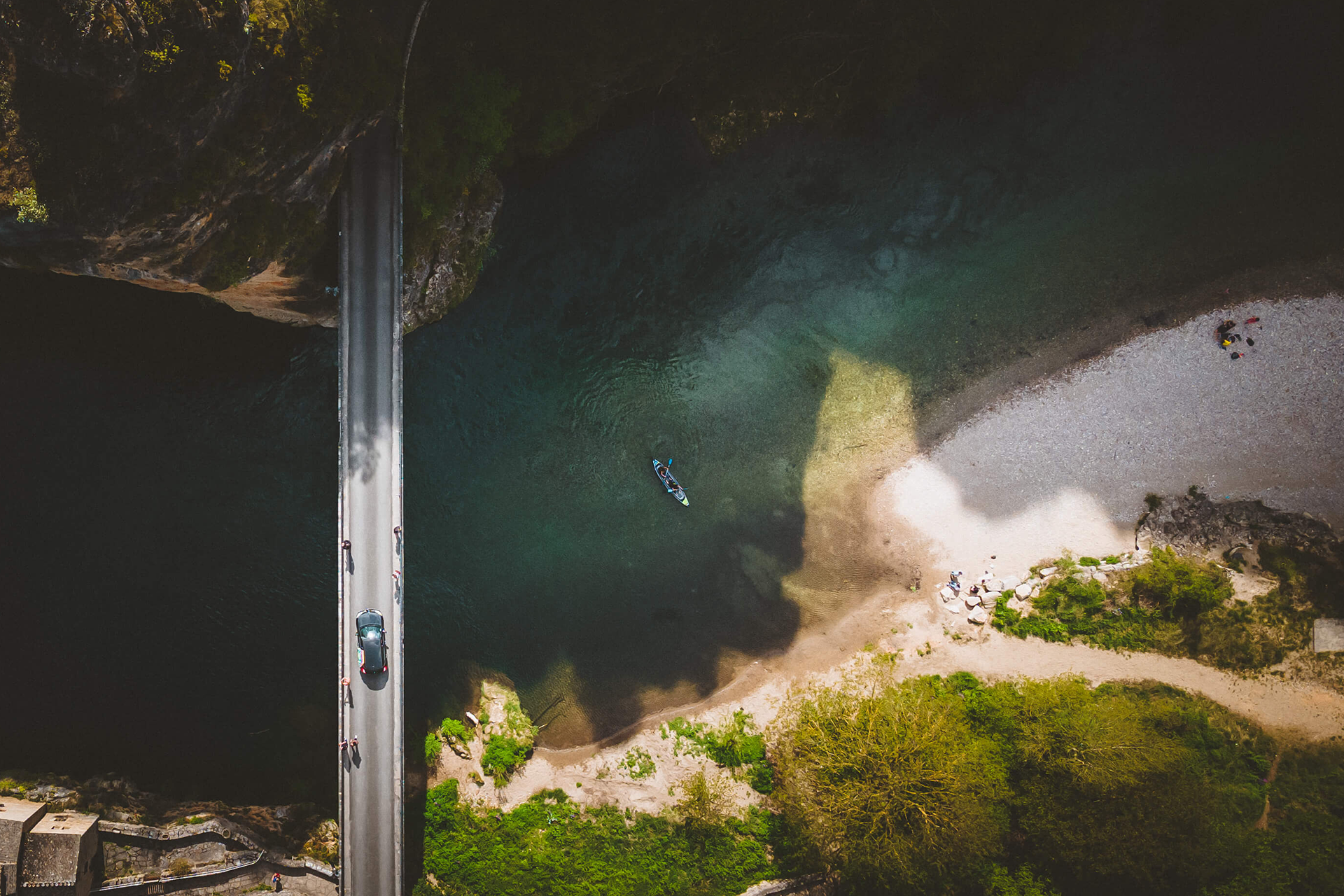 Be adaptable
A van gives you access to freedom and liberty—freedom of movement and freedom to organize your own time. You move when you want to and you stop when and where you please. Not having to anticipate or book ahead is usually a pleasure but can also be challenging if things don't go according to plan.
Listen to your inner voice, be ready to take your time, and learn when and how to make the most of your down time. The most important thing is to live in the moment and enjoy the people you're with.
Find a good spot
It's a good idea to find a good spot for the night well before it gets dark: a place you can stay and sleep for one or more nights.
Wherever you decide, check that the spot is legal and that you respect rules and the local environment. The holy grail: a spot somewhere in the middle of nature that's peaceful, pretty, and has a great view. But it's not always that easy to stumble on or find the perfect spot. A proper van/camping car area will be the most comfortable—they usually have essential sanitary facilities and are often situated near places of interest.
Campgrounds are another solid option as you'll be made very welcome and be able to enjoy a good hot shower, which is especially useful if your van isn't fully outfitted. Occasionally you can find locals willing to rent you a spot in their garden/on their land with use of the shower included but it's rare.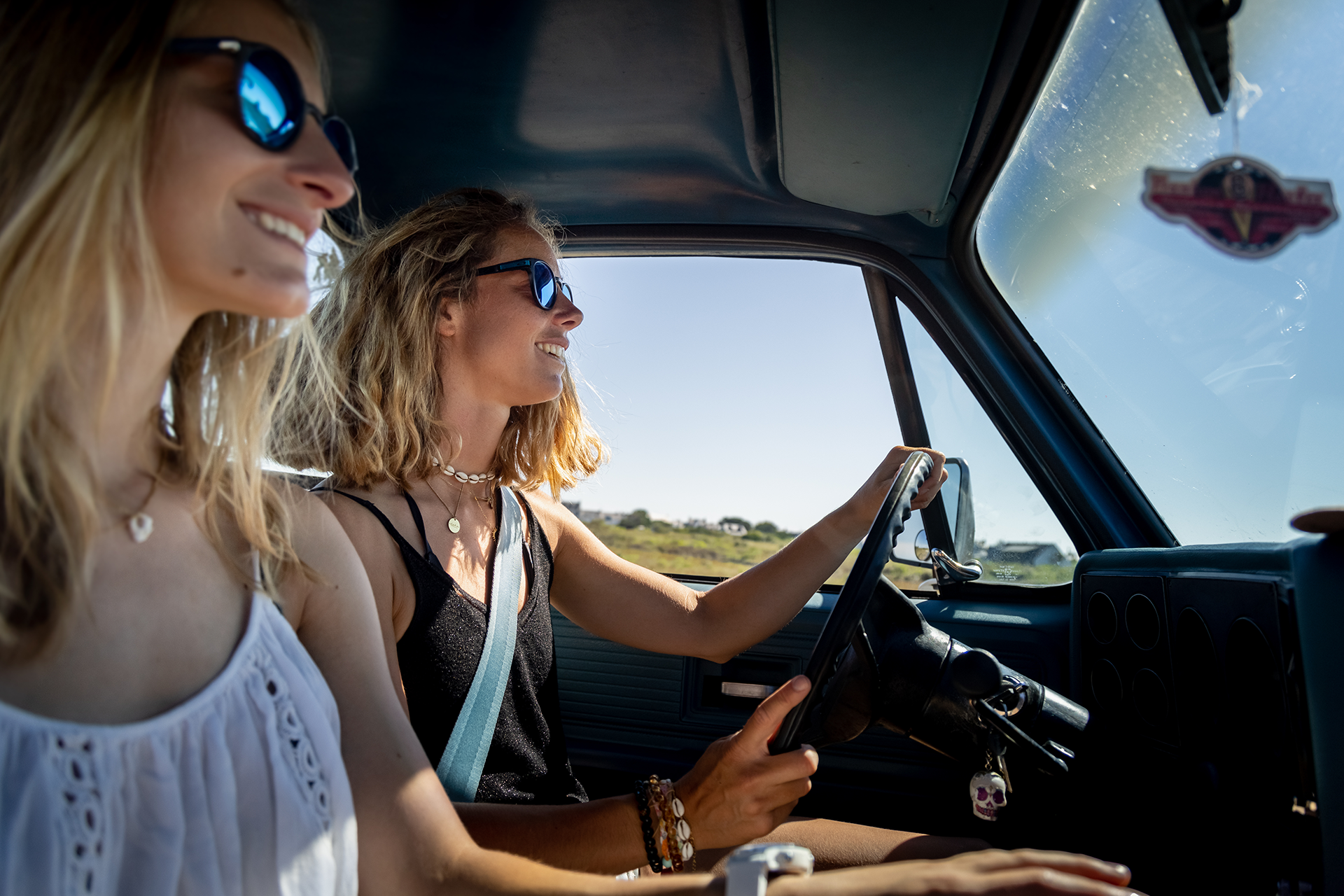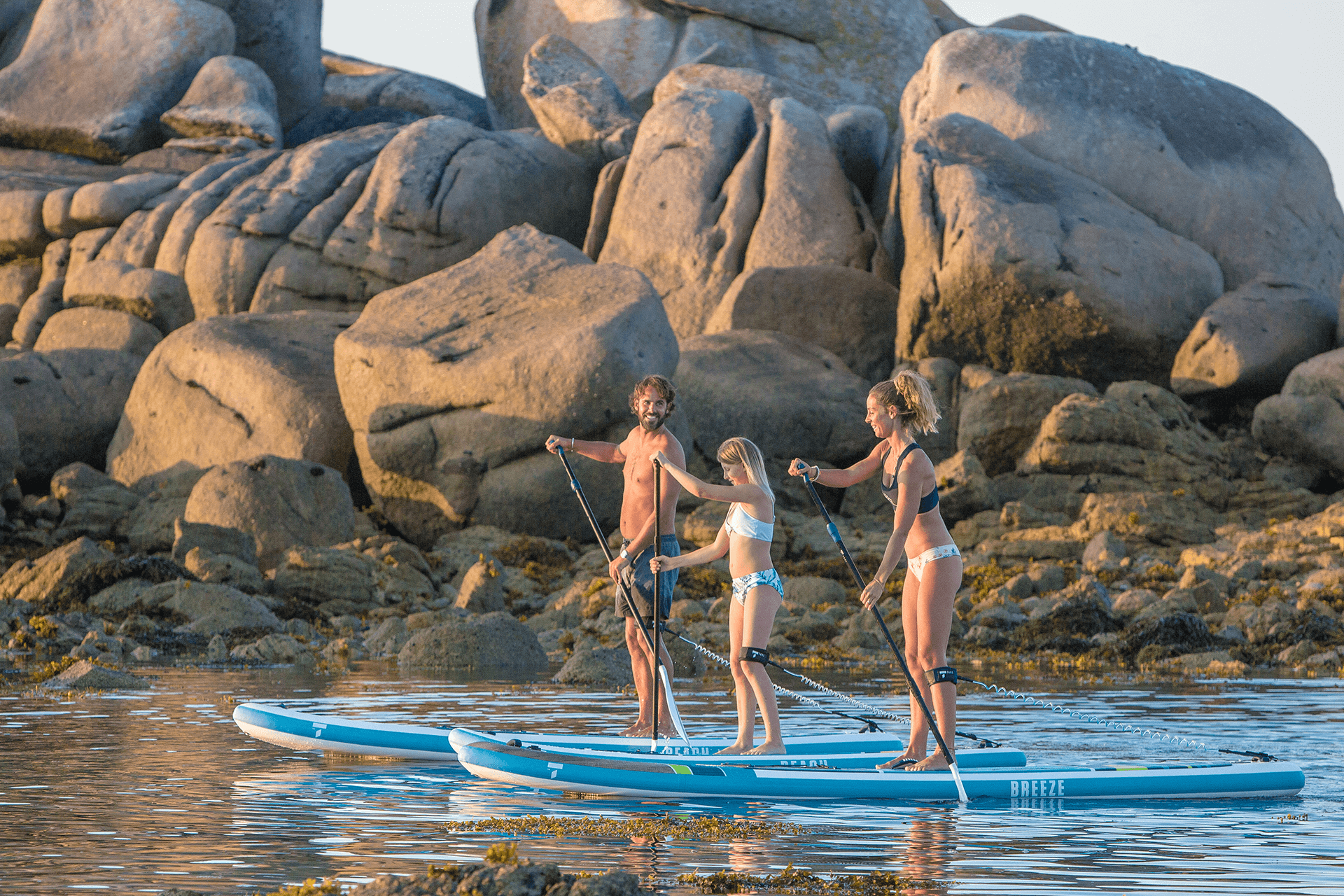 Enjoy yourself
You've found the perfect spot, with a view of the sea or next to some other stretch of water—mission accomplished! If you're lucky, you might even be the first person on the water as soon as there's a glimmer of light in the morning. A van may be much bigger than a car, but with all the equipment you need there won't be much room to spare. An inflatable paddle board is the perfect board for van life. Once its deflated and folded, it takes up very little space.
Surfer? You can always fit a shortboard! Prefer the wind? Wingfoiling is the ideal solution! If you prefer paddling sitting down, our Breeze Full HP kayak range is perfect for all your adventures, short or long. Or, if your van has a roof rack, there are even more options available.
Ready to give van life a go? We'll see you on the road!