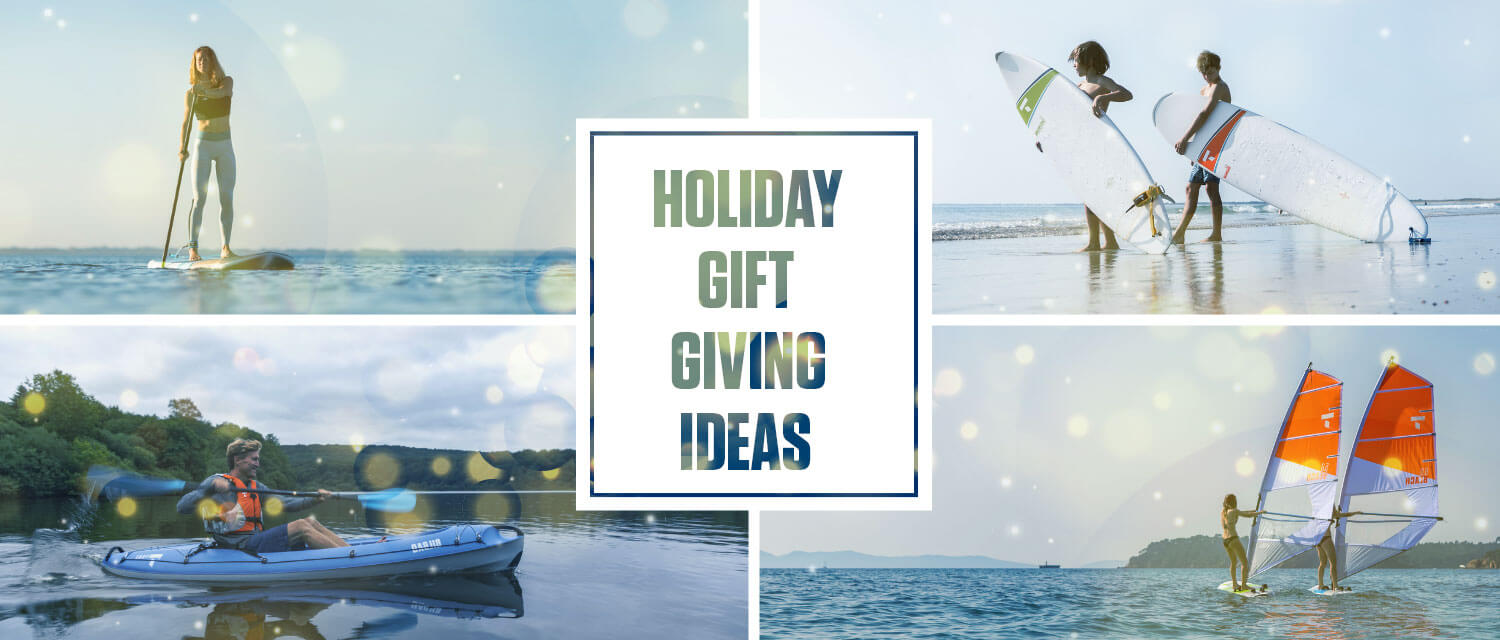 Looking for holiday gift ideas for you and your nearest-and-dearest? Need a bit of inspiration? We're here to help you find the perfect gift for everyone on your list!
Before heading directly to checkout, answer the following questions to help determine the best gifts for you and yours.
I am…
✔ constantly checking the weather forecast
✔ consistently scanning conditions as the weekend approaches
✔ always drying off my wetsuit in the bathroom
✔ regularly spending endless hours on the water
You need to check out our curated "FUN" list! It's tailored toward thrill seekers and board sports addicts.
FUN
Wing foiling, a real revolution!
You've likely heard of wingfoiling in the past couple of years, as it's the newest board sports revolution! With your wing, board, and foil, this amazing new board sport gives you the most incredible sailing and flying sensations imaginable.
Don't worry, it's a great sport for beginners too. You can start by learning the basics on a standup paddle board and work to understand how the wing/board interface works.
You can also try it on a skateboard or mountainboard whenever there's some steady wind. TAHE's Alizé wing is super lightweight and stable—it will take you from your very first lesson to enjoying endless playtime flying over the swell.
Windsurfing, a time-honored sport!
Windsurfing is TAHE's most iconic sport; it's part of its genetic make-up. If we could recommend one board, it would be the Techno 148—this board never fails! It's a great ride for people of any and every level, perfect for maximizing your fun by enjoying endless hooked-in runs in medium strength winds.
Its volume provides excellent stability even when the wind drops. 100% made in France, TAHE boards are built to last and the Techno 148 is sure to provide fun for years to come!
Surfing, ride and glide
Do you prefer to be in the water rather than flying above it? Try the Origin board and have a blast in the waves with your friends. All you need is to grab a wetsuit, put your board in or on the car, and you're off!
The best board? Without a doubt the 7'3'' Mini Malibu; it's an amazingly versatile board you can ride in any size waves. Our surfboards are easy to ride and are super strong. 100% made In France and 100% built to last.
I like…
✔ hanging by the seaside and exploring the coast when the weather is nice
✔ spending my free time with friends and family
✔ trying new things
✔ my sports to be focused on well-being and getting away as opposed to a serious training session
Head to our special "CHILL" list. It has lots of great gift ideas for those who enjoy relaxing on the water.
CHILL
SUP, to reconnect with nature
Want to spend your time exploring your local waterway to the rhythm of your paddle strokes? Standup paddling is the perfect way to have a relaxing experience on the water while reconnecting with nature.
The 11'6 Breeze Performer standup paddleboard is easy to ride, is versatile and durable, and is 100% made In France. It's the perfect board for riding flat water and small waves. Don't forget your paddle!
The SUP-YAK, for its versatility
Are you looking for a fast and practical solution for getting out on the water and enjoying some fresh air? Interested in something that's versatile? The SUP-Yak is just what you need!
The concept: a two-in-one board that doubles as a kayak and standup paddleboard. The inflatable SUP-Yak is sold as a complete all-in-one package for use as a two-seater kayak or a single-person standup paddleboard.
The SUP-Yak adapts to many situations and styles: kayak, paddle, sitting, standing, or carrying a child or family pet. The best part? It easily packs away into a compact bag once you're finished!
Benefits:
▪ SUP/Kayak
▪ Easy transport
▪ Stable and lightweight
Kayaking, to explore
Do you dream of long excursions and distance paddling? If so, you'll be tempted by the Borneo, a kayak with excellent stability that offers a smooth glide.
It's ideal for paddling solo, as a two-seater, and can also carry a child passenger thanks to its generous maximum load capacity of 250 kg.
Fitted with elastic baggage straps and a rear wheel/roller for easy transport, the Borneo is an innovative, versatile, lightweight kayak that is virtually indestructible. This kayak will be part of your adventures for years to come!